You've probably heard the news about Beckham coming back to English football on loan while the yanks take a break from their soccer season but did you hear that Blackburn Rovers are in talks with 30 year olds Ronaldinho's manager about a £20m deal to snap up the AC Milan star?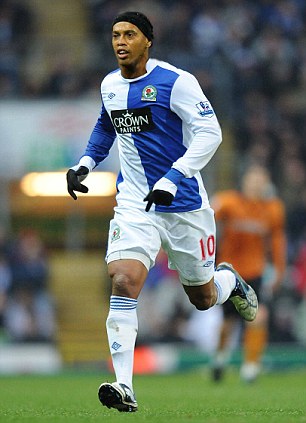 Blackburn's chicken meat processing company, Venky's, have offered Ronaldinho the money over a three year deal, offering the star £6.5m in the first year and £7.2m in the 2nd and 3rd. Brazilian sides with comicals names such as Flamengo, Palmeiras and Gremio are trying to bring him back to his homeland but failing to beat Blackburn's bid.
Blackburn's owner and Venky President Anuradha Desai released this statement after buying Blackburn Rovers:
"The impression is I've never watched a football match. I've not watched in a stadium but I have been watching the World Cup in India. I have watched hundreds of cricket matches but not live – it's all on TV. To say I don't have any knowledge would be wrong. I am a good listener."
Read more over at Sky Sports.
Great skillz, great tune:
httpv://www.youtube.com/watch?v=_dCjy2ye3Xk