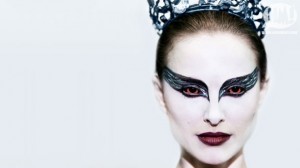 So Darren Aranofsky returns to our screens two years on from slobberknocker The Wrestler to muse on the despotic world of ballet; swapping piledrivers for pliés.
Nina (Natalie Portman) is cast as the lead in a production of Swan Lake in New York by forceful director Thomas Leroy (Vincent Cassel) but quickly finds out balancing the angelic elements of the White Swan with the ferociousness aspects to the Black Swan is a difficult and unnerving task.
Her initially enthusiastic mother Erica (Barbara Hershey) begins to take her daughter's role increasingly seriously and as Nina immerses herself in play she finds her relationship with close friend Lily (Mila Kunis) and Thomas becoming intense in more ways than one.
Part horror, part dark romance, Aranofsky's film is a visual spectacle that owes as much to Mulholland as it does to Frederick Wiseman's judicious documentary on the Paris Opera; La danse.
The camera is seemingly a free agent, sweeping the viewer through long, whirling takes in a style reminiscent of Gasper Noe's Enter the Void; also produced last year.
What begins out as a portrait of an exploitative director taking his lead girl under his wing – so to speak – develops into a hypnotic morass as Nina entrenches herself into her performance which has an equally physical and mental impact on her.
High octane scenes of body horror and female sexuality could be hackneyed and voyeuristic from a less assured director but Aranofsky creates the right air of menace and sensuality — often combining the two — to enrapture his audience.
Cassel's Thomas – blunt and red blooded – is perhaps the hardest role to pull off with his requests for his star often bordering on the absurd but the film gets away with this due to its balletic setting where – no doubt – madcap directors are ten a penny.
It would be wrong to call this pure expressionalism; its origins in the work of David Lynch and Fritz Lang belie its sheer beauty — the shots linger on Nina as she puts on her pointe shoes, for example – and there is an aesthetic clarity to the picture which is dissimilar from the oft kaleidoscopic portrayal of Americana in pictures like Lynch's Wild at Heart.
However Hershey's portrayal of Nina's obsessive mother has a touch of Mommie Dearest to her; painting abstract faces of her child and doting over her as though she was pre-pubescent evidenced in Nina's bedroom which is filled with cuddly toys and splashed in Barbie pink.
When Nina turns to Lily (Kunis) as a form of social support and belated teenager rebellion, we see her darker side as the two girls let their hair down — and other things — on a night out. Kunis is brilliant as the part manipulative, part supportive pal exuding confidence and sexiness in equal measure.
Mention must go also to Winona Ryder as Beth; a former gem in the ballet company's crown now seemingly discarded by Thomas who begins to lose her grip on life with drastic consequences.
As Nina steps into Beth's shoes as the ballet's prima donna; the tumultuous pressure to deliver in a highly competitive, strained environment see the movie end in a shuddering, ear-popping climax.
Black Swan, in its central themes of performance and obsession, is a terrific tale of a women's disconnection from reality into fantasy. The Red Shoes in a post-David Cronenberg world.