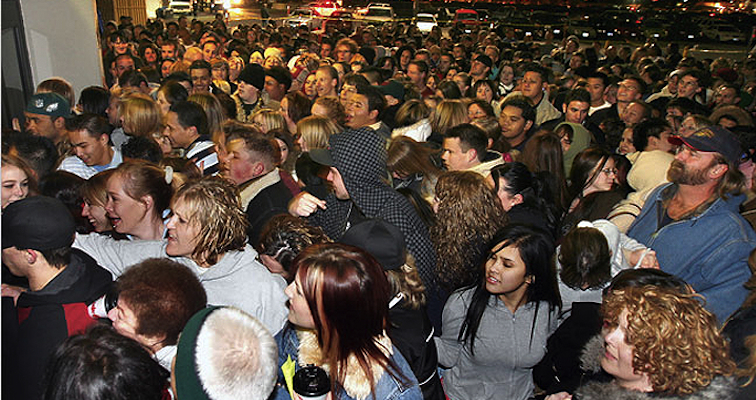 Black Friday is the day following Thanksgiving in America and traditionally the busiest shopping day of the year as it marks the start of the Christmas shopping period over there and most people (except for those unlucky to work in retail) have the day off to spend as they please due to the Thanksgiving holiday. I guess it's kind of the equivalent to Boxing Day over here as hordes of people descend upon their favourite stores to obtain those sweet sweet discounts while the rest of us who don't want to be involved in huge crowds amid heaps of snow just so we can get our hands on last seasons styles just watch football on TV and eat leftover turkey.
In fairness to the Americans it probably makes a lot more sense to have the sales BEFORE Christmas rather than after because then you can actually GET Christmas presents for people that you can give to them ON Christmas but other than that the whole event is ridiculously American in that it is completely outrageous and maxed out to levels that you can only ever dream of occurring America. For instance, the majority of retailers used to open at around 6:00 am as long as twenty years ago but opening times have become even stupider in the past couple of years. This year several retailers opened at midnight for the first time with some of the biggest names like Target and Sears opening as early as Thanksgiving Thursday. Ridiculous. Maybe they'll have the change the name to Black Thursday and Friday next year.
What's even more ridiculous though is the violence that is associated with Black Friday as people will literally fight each other and beat each other up to ensure that they get the biggest discounts on products. I guess everybody loves a discount right? Well yeah I'm not gonna lie, I do too but not enough to fight somebody in the middle of the shopping mall for a towel that's worth about one dollar.
We've found our favourite videos from Black Friday and whacked them out below, check them out and let us know what you think. They're all 100% real. I'm sure there will be a bunch of outrageous videos surfacing over the next 24 hours of this year's events so check back soon because we'll be sure to stick them up too as and when they become available.
SHOPPERS STAMPEDE INTO URBAN OUTFITTERS (BLACK FRIDAY 2011)
[yframe url='http://www.youtube.com/watch?v=FxTIf8NKNf0′]
WALMART SHOPLIFTER BRUTALLY ASSAULTED BY SECURITY (He was later found NOT to have shoplifted)
[yframe url='http://www.youtube.com/watch?v=wQ8K6dTGZak']
SHOPPERS GOING INSANE AT A WALMART IN UTAH
[yframe url='http://www.youtube.com/watch?v=sIor4hENGLo']
THE OAKLAND 4GB MEMORY CARD RIOT
[yframe url='http://www.youtube.com/watch?v=Ip11CEddIcg']
RIOT OVER TOWELS IN A WALMART IN ATLANTA
[yframe url='http://www.youtube.com/watch?v=o1zGjbFU1uE']
Black Friday huh? I hope it never catches on over here.