I have found that people often sport strong opinions on my quaint midland hometown of Birmingham. These frequently involve some ignorant bash at the Birmingham lilt, or Brum-tongue, as it's never, ever called. These sinners (because that's what they are) can also often be heard throwing a low-jab, cursing how grimey and dry the place is, usually focusing on Broad Street as centerpiece of their argument…well, as grimey and wasteman-rich this mile-long ass-tampon is, they hardly built the leafy-green suburban streets and luxurious and expansive Victorian parks in its image did they, so there…you should have gone to some other bar, somewhere else, far away from there.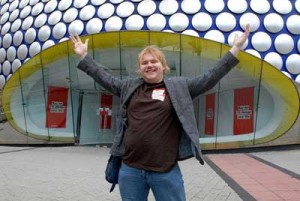 Anyway, watch this little nugget of viewing pleasure, and check out what detective Kojak had to say on this place, it may be outdated, but I've heard he knows (knew) his shit.
Telly Savalas Looks At Birmingham – BBC Radio 4
Personally, I like to see Birmingham as some kind of ugly, greying wife. Although she is ugly, and she is a bit grey, I love her, and more importantly, will always come back to her after those debauchery-laden weekend flings away with some other city.
Anyway, don't base your opinion on what you've heard, don't base your opinion on Kojak's ancient view, hell, don't even base your opinion on your own personal experiences of Brum, just believe me, Birmingham is PROPER live.
Ahem.