As he waits to find out when he'll stand trial for three counts of aggravated indecent asault, Bill Cosby has been rendered completely blind and is stuck at home without much support besides his wife Camille.
Featured Image VIA
Apparently 79-year-old Cosby suffers from an eye disease called keratoconus that's gotten significantly worse over the last year, during which the number of women claiming he drugged/raped/sexually assaulted them reached 50+.
The New York Post's source says:
His alleged victims may take some solace in the fact that he's in his own personal hell.

He has been suffering from a degenerative eye disease and is completely blind… all his Hollywood friends have turned their backs on him.

He's confined to his house in Pennsylvania, and the only person on his side is his wife, Camille, who is masterminding his defense.

His only friends are a small army of lawyers on his payroll.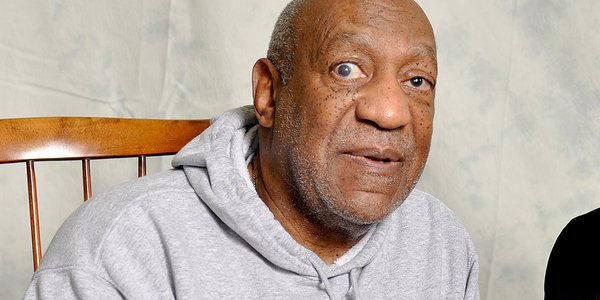 Wow, talk about going from hero to absolute zero. Bill Cosby was one of the most beloved entertainers in all of America until it was revealed he spent much of his career drugging and sexually assaulting women. He didn't exactly help himself with this interview he gave after the allegations came out.
But as if being one of the most hated men in America and facing prison wasn't bad enough, he's now gone totally blind as well. Though honestly he seems like he doesn't know where he is half the time so not sure being blind makes much of a difference.
Never forget: