The career trajectory of Bhad Bhabie AKA Danielle Bergoli AKA Cash Me Outside Girl has to be one of the most annoying things to happen in recent memory as she went from being a spoiled little brat on TV who hated her mom to a multi millionaire literally overnight, so it does actually bring me some joy to show you this video of her getting battered.
Featured Image VIA
As with any celebrity growing up in the spotlight, Bhad Bhabie has had her fair celebrity beefs with one of the most violent coming from another young idiot called Whoa Vicky. The two have already had a physical altercation in the past so when Bhad Bhabie heard that Whoa Vicky was recording in Atlanta with rapper Lil Gotit, she headed over to the studio in the early hours to confront her.
To say that it didn't go well for Bhad Bhabie would be somewhat of an understatement with TMZ somehow getting hold of the footage of their brawl:
Ouch. To make matters even funnier, Bhad Bhabie is refusing to admit that she got her ass handed to her after posting the following statement to her Instagram story: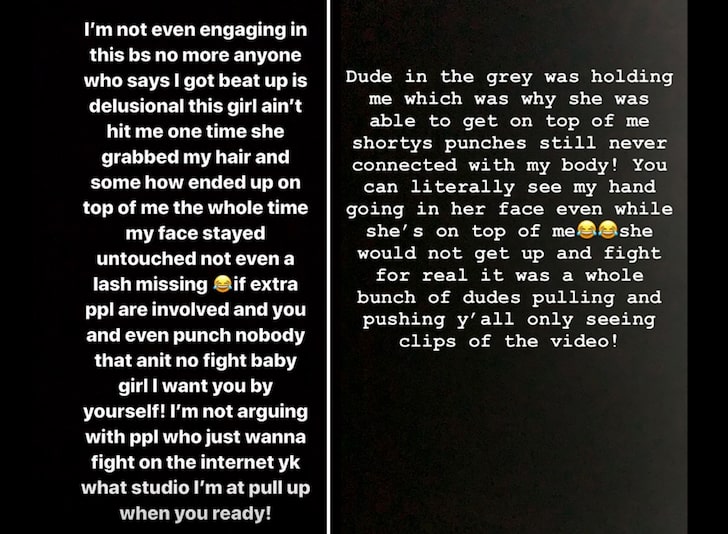 Lol that's so funny and like who actually cares about any of this bullshit? Probably loads and loads of people considering how massive these two are sadly.
In case you're wondering why the two have beef, nobody actually knows. Someone said that Whoa Vicky just came at Bhad Bhabie for no reason, whilst others say that she used a racist term to describe one of her best friends at a birthday party. Again I don't really care, but it's funny to post videos up of idiot celebrities fighting about nothing so I'll probably continue doing that for the time being. Sweet.
For more of the same, check out the price of her last endorsement deal. Will make you sick.