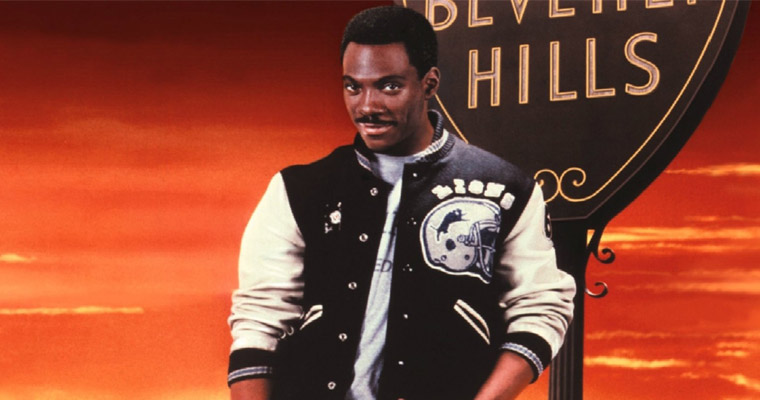 Arguably the greastest movie of the 80s and (if you can disregard the horrible Crazy Frog remix) the best theme tune of any film, ever.
Talks are underway for 51 year-old Eddie to reprise the role of Axel Foley for a new TV version of Beverly Hills Cop.
Gutted to say that he won't be fully reprising the role but will appear in the pilot as he introduces his son – the new Beverly Hills Cop.  Your next question is probably going to be "is he doing this because Mel B is making him spend time with his illegitamate love child?" I'm afraid I can neither confirm or deny this but I can tell you that his son in the show, Aaron Foley, is not actually his son in real life and that he is not the spawn of satan (a Spice Girl).
[yframe url='http://www.youtube.com/watch?v=XQGi4eB3RZI']
The part of Aaron is still up for grabs but my fingers are crossed that they don't just give it to that black guy in Beverly Hills 90210 cos that would be a genuine sack of shit.  At the moment the powers that be look to be giving the part to Jay Pharoah of Saturday Night Live fame – but this could just be on the basis that he does a pretty good impression of Eddie Murphy. Here's a quick clip of the kid doing 50 impressions – just a quick heads up the Christopher Walken one is garbage:
[yframe url='http://www.youtube.com/watch?v=QN6HQPRcMyI']
Whatever happens with this new show the chances are that it will never replace that little spot in our hearts saved for the first two films of the trilogy but it could make us forgive Eddie for Haunted Mansion and all that other crap he made post Delirious.  With Eddie  producing it alongside the creator of The Shield there is a chance that this franchise could get the reboot it needs, however, it's never really gonna beat the success of the first one which made the best part of a $300 million profit.
Good luck Eddie. Don't fvck it up like you did with Mel B. Cheers.
Follow AMJ @amjeezie
Follow SickChirpse @SickChirpse