It's that time of the year where everyone gets really excited because the new FIFA/Pro Evo is coming out. When I used to go to uni, Pro Evo shat all over FIFA and was the game that everyone played, but nowadays it seems like people are way more into FIFA. People says it's way different and harder to play but aside from the buttons being swapped I still find them pretty similar and manage to smash about 90% of the people I play.
The new FIFA comes out at the end of September and the demo dropped a couple of weeks ago that has got everyone even more wet with excitement. However, the demo has also seen a few hilarious glitches come to light which hopefully won't be included in the real game like last year when there was a glitch that led to Andy Carroll and Lukasz Fabianksi snogging each other passionately following Andy Carroll scoring a goal past him. Actually the real game would probably be even more fun with these glitches kept in, although it might be pretty annoying if it happened to you during a game of FIFA. We all know that shit gets serious.
Here's a selection of clips showcasing the ridiculous stuff that people have been getting up to when messing around on the FIFA demo.
In this first one, Arsenal right back Carl Jenkinson kicks Robinho in the face after Robinho has flicked the ball up over his head and past him. Normally this would probably get Jenkinson a red card but instead the referee books Robinho. Clearly, the referee is a racist:
[yframe url='http://www.youtube.com/watch?v=pnIkfvAax7o']
In this one, Gervinho is kicking a drop ball back to the opponents but somehow manages to injure himself in agonising fashion doing this. Truly bizarre:
[yframe url='http://www.youtube.com/watch?v=jHDTeJGvU9A']
Mikael Arteta performs a never ending slide tackle on Mario Balotelli on this one, and truly TAKES HIM OUT of the game:
[yframe url='http://www.youtube.com/watch?v=eOKacN9ue9k']
In the final clip, Gervinho does a trick and then inexplicably runs away from the ball into the centre circle and just leaves it in the middle of the pitch where he was standing. Nice trick Gervinho!
[yframe url='http://www.youtube.com/watch?v=hvXt5twKyW4′]
There's also a glitch that we stuck up on the Sick Chirpse Facebook page a week or so ago which causes Mario Gotze and Olivier Giroud to snog each other too. Here's a picture of that: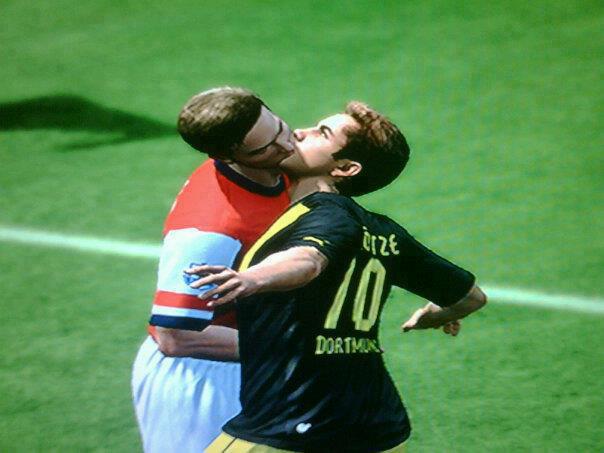 Anyone notice that the glitches only seem to happen to Arsenal players – maybe EA are trying to replicate their traditional end of season form? I guess Arsenal are one of the only teams you be in the demo (I don't have it) but it's still pretty jokes. Have you seen any other FIFA 13 glitches? Let us know.