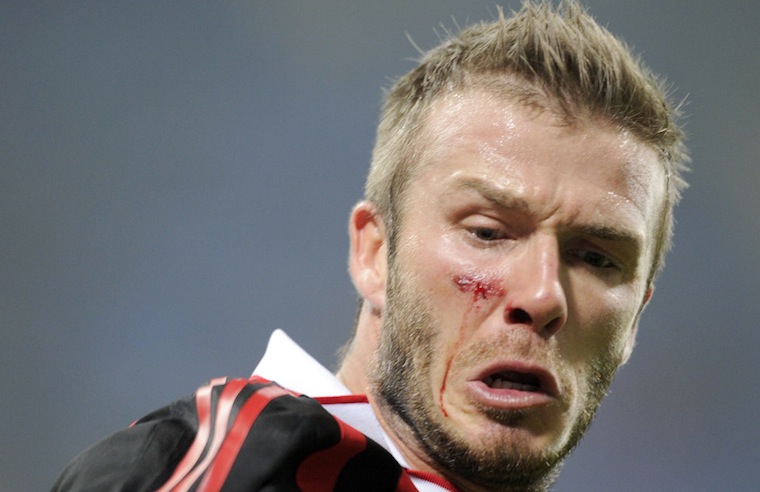 David Beckham A.K.A. Golden Balls has only gone and lost his rag in an L.A. Galaxy Match!
Beckham, famous for dipping into Posh Spice (and Rebecca Loos), as well as having a pretty impressive set of feet when they're programmed to kick a ball around a field, once made the headlines for his on-pitch anger after he kicked out at Diego Simeone while playing Argentina in the 1998 World Cup and was subsequently sent off. Well turns out Beckham's still got a bit of rage left inside him. I'm one for loving a bit of on field beef, I mean you've got to love it when things get a bit heated on the pitch, especially when it all goes crazy loco and pretty much turns into a gang fight.
In the clip below the referee is seeing to an injured San Jose player in the box while Beckham stands over by the side line, Beckham then appears to (for no apparent reason) volley the ball directly at the ref and the injured player. Just the fact that Beckham can do that without fvcking up the shot is worth watching. The female commentator tries to cover Beck's back by saying that he was just trying to boot the ball off the field. Yeah right. If Beckham wanted to boot the ball off the field, he'd boot the ball off the field, Beckham was going for that dude no doubt about it. Is Beckham still pissed off at Stuart 'Psycho' Pearce's decision to drop him from the Olympic squad? Probably.
[yframe url='http://www.youtube.com/watch?v=evhw8Z5KdDA']