Bear Grylls is synonymous with adventure and survival, so it might be slightly surprising that for his next project he's developing an indoor theme park bearing his name in the UK.
Featured Image VIA
I wasn't exactly sure what people might be hoping for from a Bear Grylls themed amusement park – a bug hut where you can actually eat your own bug? A freezing chamber where you huddle inside a sleeping bag cuddling your own piss for warmth? – but it's so far promising the following when it opens next year: indoor skydiving, rock walls, ice climbing, scuba diving, Europe's highest and hugest rope course, as well as the option to zipline from a helicopter. So far so good I guess?
The theme park is going to be located in Birmingham and will cost £20 million so you would expect it to include a few more attractions other than that and also be completely and utterly sick at the same time, but Bear isn't revealing that much just yet. Here's what he had to say about it: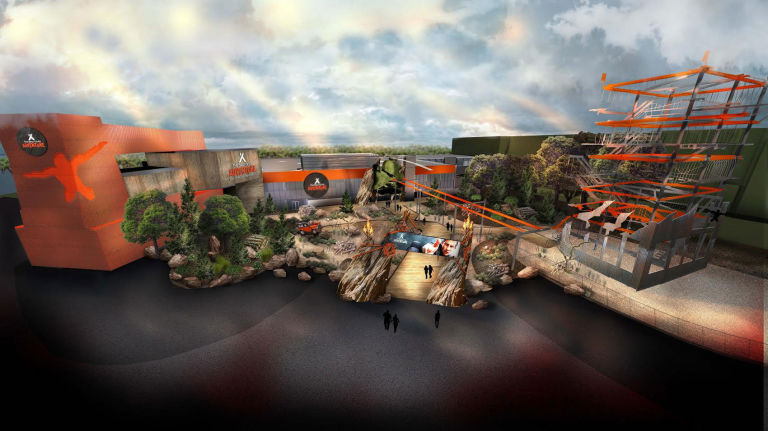 I have been so lucky to experience some of the toughest environments and challenges the world has to offer. When your greatest fears are laid bare, you have to keep your nerve and dig deep. That 'never give up spirit' is what I hope to inspire in as many people as possible through this huge endeavor.

The scale of challenges that can be found at Bear Grylls Adventure are truly mind-blowing and it allows millions of others to find the courage and tenacity to conquer their own Everest.
Again that isn't really saying too much about it either, but I'm still pretty interested in what he's going to come up with. It's due for opening next year too so not too long to wait to find out either. Hopefully it'll be worth the wait.
For more of the same, check out when his producer suffered a sick snake bite and almost ended up dead. You gotta be careful out there.