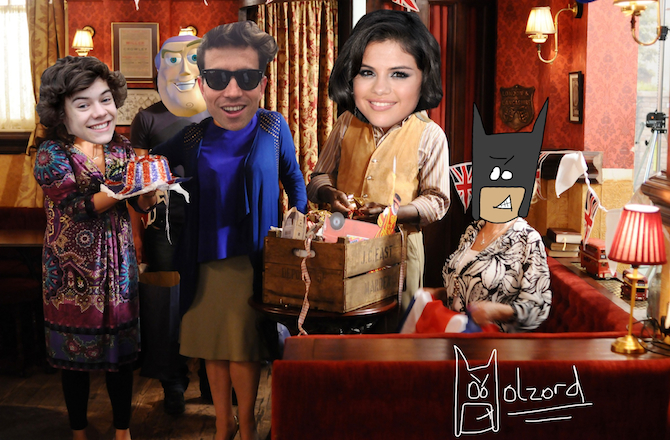 Alright so I been hearing about how bare fans have been a bit upset coz of like how Justin Bieber was a bit late for his gig and ting? So I feel like I gotta do the responsible thing and explain wagwan. Details to follow, so if your name is details then please follow me on twitter maybe coz that would bring a full circle to this situation.
I was having a pint of soup in the pub with Selena Gomez, bit of chit chat some crisps & also I ripped up a beer mat, and then basically by accident on purpose I sent Biebz my location on Whatsapp with a picture of her narni that she didn't know about coz I took it under the table. About 3 minutes later Nick Grim Jaw teleported into the room, opened his middle lip and revealed Biebz & Harry Styles on a suede sofa.
Now this beef was pretty stupid coz he was annoyed at me for chirpsing his ex bitch yeah? But only reason he could even teleport there is coz he being gobbled by Nick Grim Jaw & taking it in 1 Direction from Hatchett Harry (that's the only way you can teleport according to Nick Grim Jaw), so I'm all like "you're a hypocrite fam I will shank your toys" not thinking that Buzz Lightyear was waiting outside.
So now shit is getting pretty tense coz Buzz Lightyear set his laser from stun to kill and there were 45,000 SWAT team and army outside — no one knew if everyone was gonna die or get in some jagerbombs — Tracey was minding the bar.
But luckily, after we stayed silent giving eachother evils for about 6 hours, someone turned the news on by accident and we found out about that girl that got cured of AIDs. We collectively did a loud brap, the DJ wheeled up the riddim, & Biebz got a round of Nobbys Nuts in for the mandem (he forgot that Selena Gomez was even there because she was giving me a cheeky nosh under the table).
It was at this point that Biebz realised that all this beef had made him late for a gig, but I wouldn't let him leave until he took a picture of us in the Queen Vic for the purpose of Instagram (see above). He still hasn't clocked that him taking the photo meant that he won't be on my Instagram for the purpose of Instagram, which could have made him famous, and that is why he was late.
So sorry about that.
If anyone wants that picture of Selena Gomez's pum pum, I have it mass produced onto floppy disc, 50p each, great gift for Mothers Day.
☛ Read This Next: Are Harry Styles And Nick Grimshaw In A Sexual Relationship?
☛ More Batman_LDN: How To Do A Sick Chirpse With Batman_LDN
☛ Justin Bieber Is Stupid: Is #Cut4Bieber The Most Sickening Twitter Trend Ever?