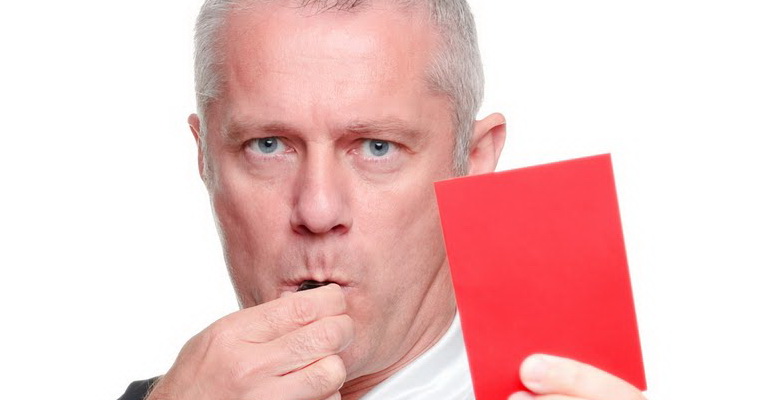 Luchezar Yonov, some banned Bulgarian ref must REALLY love his (old) job. Either that, or he's skint and desperate. Because, he recently took charge of a friendly match between Werder Bremen and AZ Alkmaar by fooling everyone into thinking he was another (eligible) ref, Raicho Raichev. Takes some balls, considering it would have only been a matter of time before people realised he wasn't actually Raichev. Kinda weird how he got the match in the first place, though. Whoever gave him the green light must be either blind or had been bribed because they must have known who Yonov is. Or had seen pictures of him. Mind you, type Luchezar Yonov into Google and no pictures of him actually come up. (The guy above isn't Yonov, he's just some guy holding a red card.) Weird…There must be some sort of list of banned refs for UEFA to look at, sort of like FBI's Most Wanted, though. It's unbelievable he was given the game. OK, it was a friendly, but what does that matter? They are two professional teams.
What makes it even more unbelievable is that Yonov didn't even make the game as discreet as he could. There was ten minutes of added time, a controversial penalty and a free-kick given in the ninth minute of added time. It's like he wanted to get caught. It's like handing yourself into the police, ain't it?
Apparently, the reason why he was banned in the first place is because he didn't inform the BFU (Bulgarian Football Union) he was refereeing at international matches in South America. Sort of a petty thing to get banned for. Not like he did anything majorly bad. But a ban is a ban. I can imagine he was pretty annoyed by it, though, so perhaps him pretending to be another ref is his way of getting his own back.
Here's a fan's footage of a bit of the game where you can catch glimpses of Yonov and also see an awesome Roy Keane-esque lunge and a goal:
[yframe url='http://www.youtube.com/watch?v=JFWh8tZjxHk']
Anyway, Bremen won 2-1, so they won't care about Yonov.