The picture above is of Tony Newland, a man to avoid. He's recently been jailed for crimes against art… well… that wasn't what he was actually jailed for, I don't think that's illegal. Newland was actually jailed for running an unofficial tattoo parlour from his house with little or no regard for public safety. It's not exactly crime of the century, but the tattoo he left with one poor girl certainly was.
Based in Carlisle, Cumbria, Newland had been happily doing tattoos for people on the sly for years. Despite having some of the tools of the trade he certainly didn't have any of the appropriate health and hygiene knowledge he needed.
He used a 'dirty' toothbrush to clean his tattooing tools and an Old Spice deodorant stick to apply stencil transfers to customer's skin. Old Spice? Does anyone really still use that stuff?
He did his work in the kitchen of his abode with a cat wandering about for company and/or infection purposes. Newland argued that he didn't make a profit out of the tattoos so it was a non-commercial activity, but that didn't really wash. He's thought to have carried out around 150 illegal tattoos in his hovel since 2010. He even admitted to tattooing a 17-year-old boy.
Newland would have probably carried on his dangerous business for a while to come but one hideously unhappy customer finally complained to the council. This poor girl had asked for a huge back piece of Alice in Wonderland. Something like this: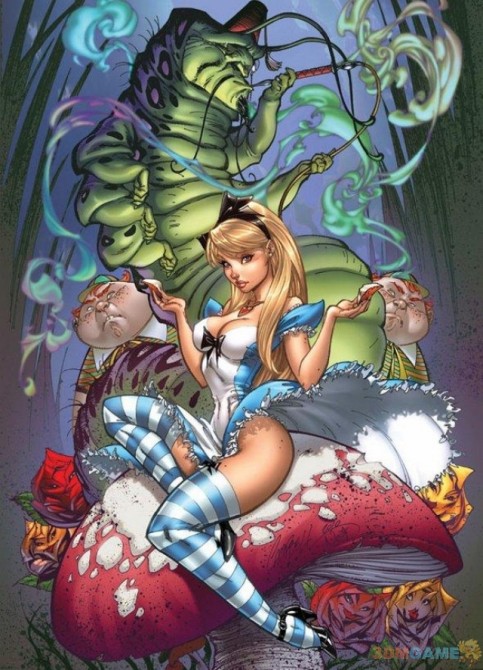 She was then subjected to two days of suffering before finally calling it quits. Her back got so infected that she couldn't sleep for a few days due to the pain. She said that during the tattoo process Newland was drinking and took regular fag breaks – professional.
If you want to see a bloody awful mess of a tattoo click next page…
 ☛ Next Up: 21 Awful Jesus Tattoos