A baby dolphin has sadly died after sunbathers decided to pull her from the sea to pose for selfies on a packed tourist beach.
Images VIA 
In this stunning example of the general public's undeniable stupidity, holidaymakers allegedly dragged the small female out of the water, before stroking her and passing her around for pictures on the beach in Mojacar last week.
The baby, which was still of breastfeeding age, had lost her mother and became stranded in shallow waters off the coast of southern Spain. I would've thought that people would be smart enough to leave the poor thing alone and call for help or at least not be dumb enough to pull the creature out for pictures, but clearly I am wrong.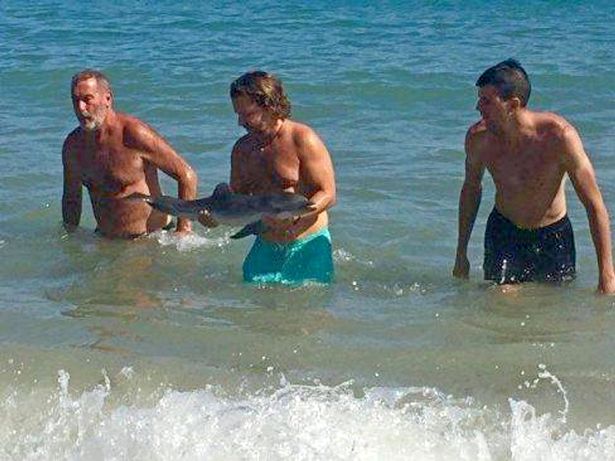 Crowds got so overexcited that kids were even seen covering the poor dolphin's blowhole. Marine conservationists rushed to the scene, but sadly the dolphin had already died by the time they arrived. Equinac, a group which protects marine wildlife in the area, reported the tragic incident on its Facebook page, saying:
Humans are the most irrational animal there is. Many people are unable to feel empathy for a living being which is frightened, starving hungry, without its mother and terrified. In their selfishness, all they want is to photograph it and touch it, even if the animal is suffering from stress.
Yeah I've got to say I'm with these guys on this one. Do those people really think that a frightened baby animal is just a prop to use for their new Facebook profile picture? Their stupidity has led to this animal's death and it's not like this is even a one off incident either. The exact same thing happened last year too. When will people learn?