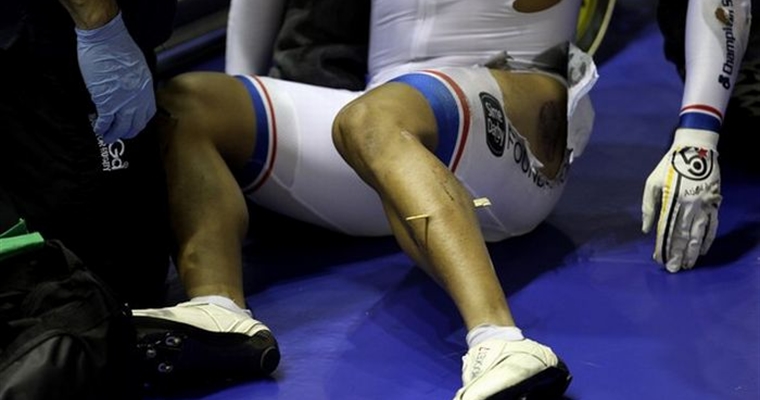 Unless you've been laying face down in the corner of the room with you eyes crossed and your balls in your ears singing Spandau Ballet at the top of your lungs for the last few days, you will know that the Brits have been completely smashing the guts out of cycling in the Olympics. That's good news if you like cycling and/or sports.
If you're a Chirpser however, you might not have found quite enough gore. So we found some for you, mixed in with a few LOLs too. A couple of days ago the Malaysian cyclist Mr Azizulhasni Awang – no sniggering please – didn't get himself any medals. But, last year at the 2011 Track Cycling World Cup, during the Men's Keirin Final (WhateverTF that means) there was a big old pile up right next to the finish line. Our friend Mr Awang managed to get a 20+cm piece of velodrome stuck straight through his leg. Despite being a 5'5″ fella it turns out he is as hard as a mutta fukka and he got back on his bike and claimed bronze.
The video below is ace because it covers all of the Chirpse bases: sports, crashes, injuries and some Monty Python type falling over. Those cycling shoes are not meant to be walked in.
Even as Awang is stretchered off he looks straight at the camera and defiantly points out his majestic wound with pride. Here's the action. What a boss:
[yframe url='http://www.youtube.com/watch?v=rltqF-HT9iU']