Art student Clayton Pettet is planning on losing his anal virginity in the name of an 'art project'. The 19 year old Londoner who studies at Saint Martins is set to be publicly bummed in front of an audience of 50-100 classmates at a location in Hackney, East London. That art project is titled 'Art School Stole My Virginity' – nice.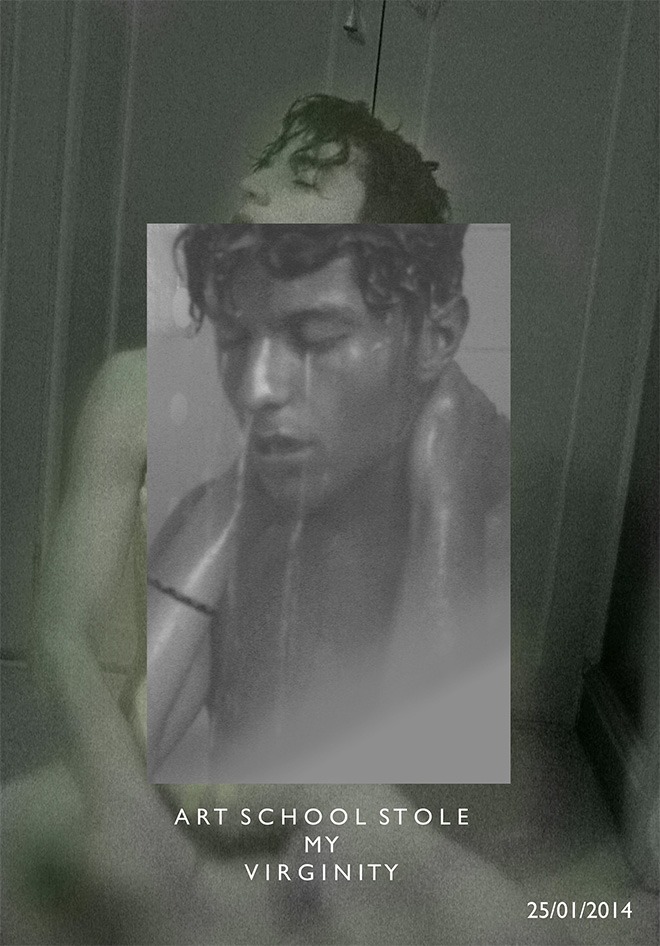 Clayton talks about the project on his Tumblr:
☛ Read Next: Customer Praises Waiter's Excellent Service, Won't Tip Because He's Gay
"The Idea of 'Art School Stole My Virginity' came around when I was sixteen, when all my peers at school were losing their Virginity it was incredibly hard for me to ask why I was still a Virgin and why it meant so much to the people all around me. My piece isn't a statement as much as it is a question. The whole aspect of Virginity was incredibly emotional for me and has been ever since. It became a thought process that turned into the performance piece that I wish to create for the public on January the 25th. The London Art Scene has slowed down recently and whilst London is in its prime and is constantly changing the contemporary artists are the same and they aren't so contemporary anymore. I want my piece to inject some speed into the arts, a performance of the people if you will. I feel like now is the time for the new scene. To lose my Virginity with the new age is the Avant Garde that London has been unintentionally waiting for."
Check out Clayton on Tumblr here.