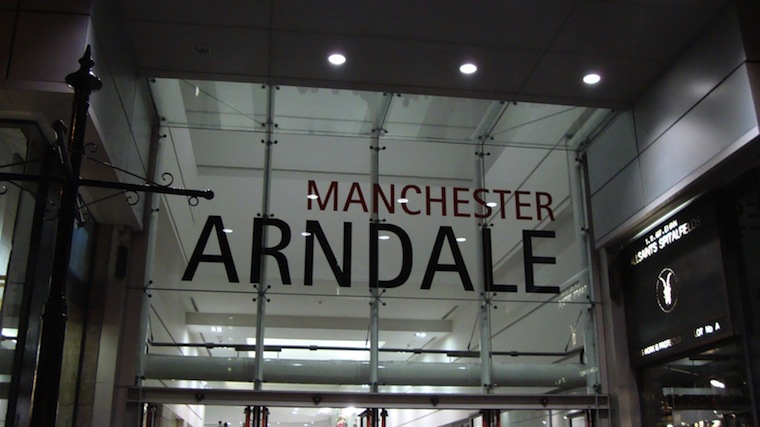 Ah the Manchester Arndale centre. The scrot of the scrots. Well, not quite as scrotty as the Pallasades in Birmingham, and depending on which wing of the Arndale you're in it might not actually be that be.
If you're hanging around the Next/Apple Store side of the Arndale then you're probably all good and won't catch too many airborne diseases, but be careful as the clothes market isn't too far and you don't want to end up in there. Gabbotts Farms is another monstrosity you should also avoid at all costs, and don't even get me started on the area near the escalator to the food court, 'Luvyababes' and the ghetto hairdressers that's tucked away in the corner is a most definite no-go.
☛ More: Hidden camera found in Simple's toilet (NQ, Manchester)
Well it turns out that all the escalators within the Arndale may be no-gos as a peeping Tom has been caught red handed taking on-the-sly up skirt photos of unsuspected women. The funniest thing about this dude (not that taking voyeur up skirt shots was ever funny in the first place) is that when asked what the fvck he was doing by an Arndale security guard, he simply replied with 'being a perve'. Oh, okay then sir, be on with you day please. Um, more like what the fvck are you on about you creepy piece of shit?
Manchester Evening News reported:
A garden designer spotted in a shopping centre holding his phone under a young woman's skirt to take photos told a security guard: "I am just perving."

James Mitchell was caught taking the pictures on the escalator in Manchester's Arndale Centre on a Sunday afternoon.

Mitchell, 36, was made to delete the photo but pictures of other women taken that day were found on his phone.

At Manchester magistrates' court Mitchell, of Cross Street, Manchester, pleaded guilty to outraging public decency. He was bailed until October 23 for reports.
Not cool. Really not cool. Be careful next time you're riding those escalators girls.