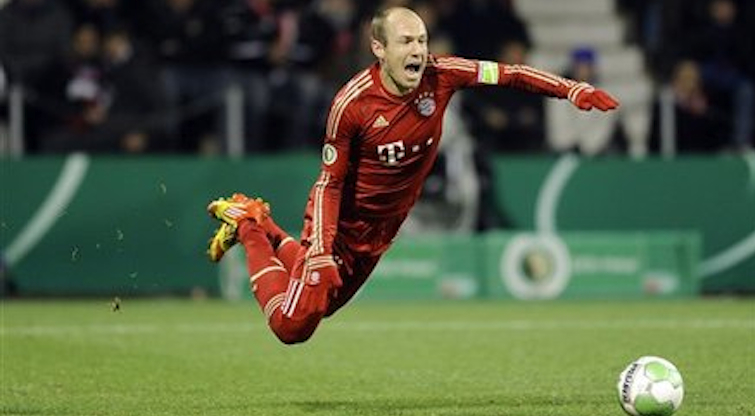 What a week. First the best own goal ever, and now the worst dive ever!
Everyone remembers Arjen Robben from his days at Chelsea in the Premiership just as much for his outrageous diving as his audacious wing play. It doesn't seem like much has changed since the Dutchman left west London, having dived through a brief stint at Real Madrid and eventually settling in Bayern Munich where he again is known just as much for his play acting as cutting in from the wing and unleashing a powerful shot into the roof of the net. The only thing that is different is that he has even less hair than when he was a 21 year old playing for Chelsea.
But last night perhaps saw the worst dive of Arjen Robben's career. It could perhaps be the worst dive of all time. Sure, Robben does get knocked by the defender in the area but he stumbles and lands on his feet and then, WHEN THE DEFENDER IS NOWHERE NEAR HIM, he jumps up in the air and does the trademark Robben swan dive. It really is disgraceful. I mean if afterward he had just got up and not appealed for the penalty I might have let him off, but he goes crazy appealing for a penalty and even more crazy when he's booked for diving.
After the game Robben, did at least have the humility to apologise for the dive, stating: 'That was stupid. Perhaps it was a penalty, but then I should have fallen earlier. I saw that I could not get the ball. It was stupid. I must not do things like this — and I apologise.'
In a perverse irony, Robben subsequently bagged the winner as Bayern Munich came from behind to beat Bochum 2-1. Go figure.
You can check out Arjen Robben's terrible dive below. It might not be taking diving to a new level, but be prepared to be shocked.
[yframe url='http://www.youtube.com/watch?v=F4Pjeba0TDg']