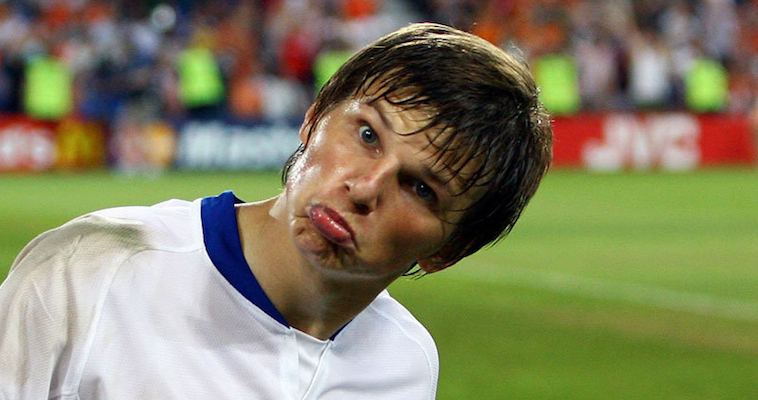 Remember Andrei Arshavin? The player who so lit up Euro 2008 with his displays for Arsenal, who then went on to play for Arsenal and score four goals at Anfield before fading so badly into obscurity and bad form that Gervinho regularly kept him out of the team and he had to head back to Zenit St Petersburg, where he doesn't start either? You probably remember him if right?
Well, anyone that knows about Arshavin will probably know that he's a bit of a nutjob, and if by some miracle you don't know who he is and have clicked on this post then let me tell you that he is indeed a nutjob. You can quite clearly see this from his official website, where he regularly discusses his opinions of subjects as psychologists, broken arms and, as well as revealing that his favourite animal is a bear. He also recounts stories such as the time he was in a recent car accident and somebody in a passing car handed him a grapefruit while he was standing around waiting for his car to be fixed. All very normal behaviour for a professional footballer, I'm sure you'll agree.  I guess Russian brehs really are crazy.
Anyway, since he has returned to Zenit he hasn't really been getting in the team much there either, but he came on as a sub at the weekend and played a part in both goals in what ended up as a 2-0 win for Zenit against CSKA Moscow. Well, he played a part in celebrating the first goal at least. It was a header from Vladimir Bystov, who seems to injure his stomach by scoring the goal. When he's lying on the floor clutching his stomach, Andrei Arshavin sees fit to just stand on top of his chest? Er what? Surely that isn't how you react to a stomach injury in a teammate? Or even how you celebrate a goal for your team. What a weirdo. Check out footage of it below:
[yframe url='http://www.youtube.com/watch?v=CR7BAfhgnsU']
If anything though, this celebration seemed to galvanise Arshavin's performance as he scored a really sweet volley afterwards. Unfortunately I could only find this really bizarre video which shows the highlights of his whole performance against CSKA and is playing some really bizarre Russian ballad over the top of it. His goal comes towards the end of it, but there's a really good part where he totally screws up a header around 3 minutes. You also get some slow motion footage of him walking on Bystov's chest towards the beginning of it. Enjoy.
[yframe url='http://www.youtube.com/watch?v=A_z7qPhb9Ls']