Day after day, we bang out blog after blog here on Sick Chirpse, with literally zero days off (if you ignore the weekend). That's why it disgusts us to read about this fortune cookie writer over in America completely buckling under the pressure.
Featured Image VIA
For 30 years, Donald Lau served as "Chief Fortune Writer" at Wonton Foods, which is the largest manufacturer of fortune cookies, noodles and other Chinese staples in America. This week, he announced he's stepping down.
Why? Because he's got writer's block. WTF?
Donald says:
I used to write 100 a year, but I've only written two or three a month over the past year.
He says the fortune cookie game has changed because nowadays, the premium is on new, inspiration sayings that promote Yogi tea bag-style well-being.
Donald will continue to serve as Wonton Food's Chief Financial Officer, and the company founder's nephew will take over fortune cookie duties.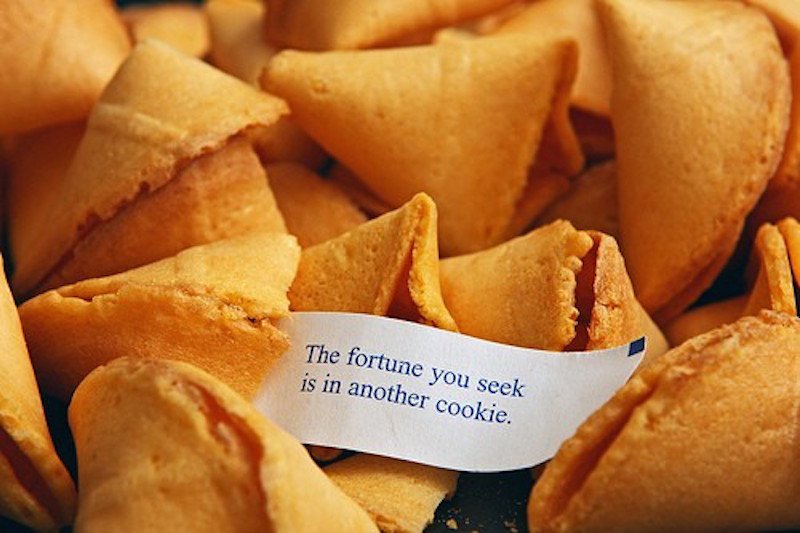 As I said, we're smashing out blogs daily on Sick Chirpse and this guy can't even handle writing 100 fortune cookies A YEAR? What an absolute pussy. I'm embarrassed to share (almost but not really) the same profession as him. I mean how difficult can it be to think of new fortune cookie messages? "You will make a new friend", "Good luck will come your way", "You look far less gross than usual today". Not exactly the hardest job in the world, but for some reason Donald Lau couldn't handle it. That's what quitters do, I suppose – they quit.
To read about the addictive substance some Chinese restaurants have been lacing their food with – click HERE. It might just explain your Chinese food cravings.