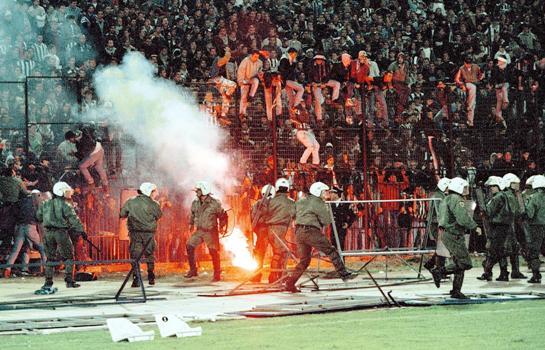 As an American, I am the first to admit that my country has completely removed itself from both the global passion for and popularity of the game of football. Hell, we don't even use the name "football" to describe the sport. However, despite our seemingly lack of interest in the world's post popular game, one thing that draws Americans to the sport is the Hooligan. For Americans, football hooligans are the silver lining of awesome in the otherwise dull and dreary dark cloud that is football's global popularity. Americans might bitch and moan about watching two teams sprint around a gigantic field for an hour at a time in between goals. However, the promise of post-game riots make it worth it.
So here's a collection of some of my favorite footage of hooligan riots in action. Let the majesty of chaos unfold!!
httpv://www.youtube.com/watch?v=be-3JH-ocGI&feature=player_embedded
At some point in my life, I want to drive a tank with fire hose attached and blast the Libertines.
httpv://www.youtube.com/watch?v=xtOXiQToz64&feature=player_embedded
What I love about this video is that dude runs off with the destroyed barricade. That shit is hard!
httpv://www.youtube.com/watch?v=xZWjItCP7fs&feature=player_embedded
Why the hell do cops always send horses into riots? There must be some kind of plausible reasoning behind it. My question is: if motherfucking tanks with fire hoses are are available, why go equine?
httpv://www.youtube.com/watch?v=ieKWtbr7wXY&feature=player_embedded
This is a perfect example of actions speaking louder than words. Sure, Ice Cube chanted "Fvck the Police" and Ice T spit about cop killing, but rather than bitching from the sidelines of witnessing police brutality, these motherfuckers jump right into the rumble. So hard!!
httpv://www.youtube.com/watch?v=AKK9EjEEG_Q&feature=player_embedded
This one is definitely the best of the lot. There is so much going on this 97 second clip. Notice how the guy who's on the phone makes sure to end his call like a gentleman before continuing to throw punches. I can imagine him saying, "Sorry, love, I've gotta go crack some skulls." What else blows my mind about the phone guy is the fact that the guy he attacks appears as if he may have a gun. FEARLESSNESS!!
httpv://www.youtube.com/watch?v=ZofuGoauF5I&feature=player_embedded