Alan from The Hangover is probably one of the most iconic original movie characters of the last ten years when you think about it – I mean how many other trilogies have there been that haven't been based on a book or a comic book in that time? He even works surprisingly well as a horror movie bad guy if you recut the movie.
When you think about all that, it might not be that surprising when you learn that this dude called Thaddeus Kalinoski has managed to make a living out of impersonating him – and earns $250K a year from it and looks like he has the best time ever doing it too.
Thaddeus only realised that he looked like Alan when a whole bunch of crap happened to him at once – his wife left him and he lost his job as a hotel manager. In the wake of this, he gained twenty pounds and grew his hair and a huge beard and a number of people started mentioning that he resembled Alan. Thaddeus explained how it happened:
Images VIA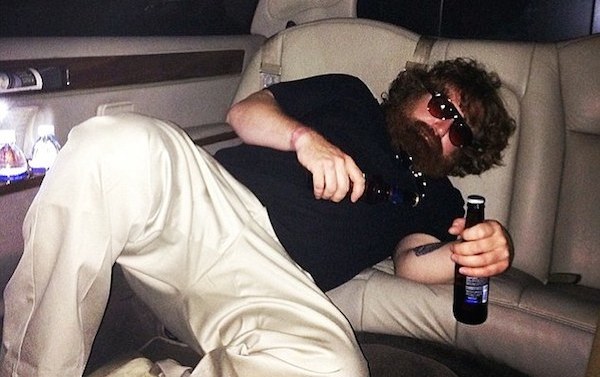 Then one day after not shaving for several weeks I looked at myself in the mirror and thought 'wait a minute — you look like Alan.' People started telling me when I was out at night that I looked like him. So for kicks I decided to see if there was some money in doing this as a part time job to earn some extra cash.

I moved to Atlantic City to see what people thought and I had some fun, but then me and my buddy went to Vegas for a weekend away – and it all changed.

I moved to Vegas and can now charge up to $1000 for an appearance. I also get random perks and money from strangers walking down the strip.

Groups often ask me to join them for dinner or a night at a club. It felt strange to be with strangers at first, but what was easy for me was that acting like Alan meant it wasn't awkward.

As long as I acted like him, most of the groups would just make jokes and have fun. It is a fantastic experience dipping into people's lives like that.

I even got cast as his stunt double in the third Hangover movie.
What a story – it just goes to show that even if you fall on hard times and put on a load of weight and don't care about your appearance. then there might be some light at the end of the tunnel. Check out the slideshow to see how much fun Thaddeus is having whilst pretending to be Alan – he's even met Mike Tyson, Bradley Cooper and Gene Simmons and seems like he just regularly parties like there's no tomorrow. What a life.
The picture below is what he looked like before he 'became' Alan.