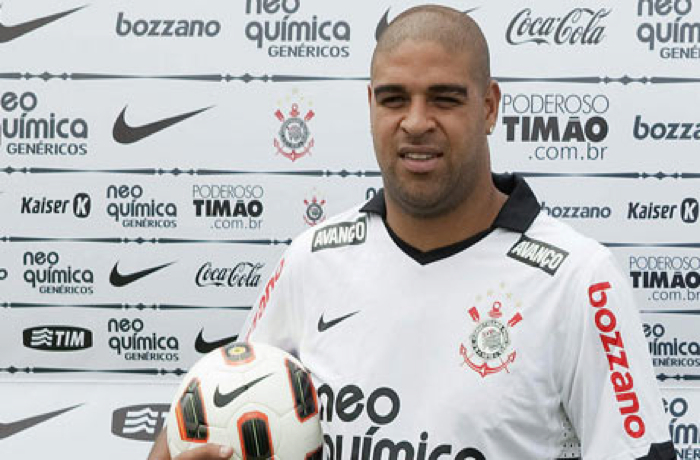 Remember Fat Ronaldo? At one point he was the best footballer in the world, but someone else with the same name came along who was better so now to avoid confusion he is always referred to as 'Fat Ronaldo'. That's the risk you take if you only have one name. I bet Jean Claud Van Damme doesn't have that problem.
Anyway, this doesn't concern Fat Ronaldo. Well actually it does. You see, Fat Ronaldo's fellow Brazilian Adriano is a right portly fucker these days. Throughout his career he's had a really impressive strike rate, however he always came in for criticism regarding his lack of trying on the pitch and off the field antics. Adriano always had an eye for goal, and presumably the other on the buffet, so he could justify his attitude and lifestyle. Fair enough.
However all that drinking, partying and eating has now caught up with the 29-year old who is sporting a rather bulky frame. He has never been the slimmest individual, however when you stand side by side with Fat Ronaldo and you look like the ex-footballer who has let himself go, you know you should probably go on a diet.
Rather than stay an extra couple of hours at the training ground (which is kind of impossible seeing as he never turns up) and eat what every other professional eats at one of Brazil's largest clubs, the management at Corinthians have decided to lock Adriano in a hotel room.
[yframe url='http://www.youtube.com/watch?v=RuvNZPNyz68′]
They say he will be on a strict diet and can only eat what doctors give him. He will also train three times a day, presumably at the hotel's gym. If not, maybe he could use the room's Corby trouser press as a makeshift resistance weight machine.
Corinthians fitness trainer Fabio Mahseredjian said: "In the hotel we have more control over him … He knows we're trying to do the best for him. All of us are dedicated, but it depends on him. Weight loss comes only through diet: you cannot lose weight through physical activity alone."
I'd quite like to see what is going on in that hotel right now. I guess there is a team of Corinthians coaches watching him 24/7 making sure he doesn't order room service or bust open the mini bar. Force feeding him salads and making him run up and down the hotel corridor. Although I'm sure it is all a bit more professional than that.
Good luck Adriano. Who knows you may turn it round and make the Brazil 2014 World Cup squad. Maybe even team up with Fat Ronaldo to form the heaviest strike partnership in the world. You'd still be quicker than Per Mertesacker.