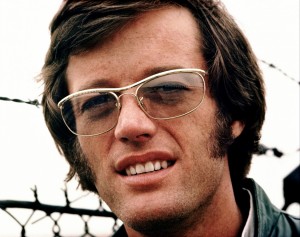 Peter Fonda – star of movies such as 3:10 to Yuma and Ghost Rider – got a shock yesterday when he made the gruesome discovery of a male corpse in a parked car. The actor, son of screen legend Henry Fonda, stumbled upon the unpleasant scene in his native Los Angeles and immediately contacted cops.
Fonda, 70, made the grisly discovery after finding it suspicious that the car, a Sedan, had remained in the same spot for more than two days and saw the body slumped over the steering wheel. The identity of the man is unknown but it appears certain from police investigations that the driver had committed suicide a few days before.
The Academy Award-nominated actor is immortalised in screen history for his role in 1960s counterculture flick Easy Rider, the movie that catapulted Jack Nicholson into the Hollywood spotlight. Fonda played the role of a stoner Wyatt – nicknamed Captain America because of the motorcycle he rides – where he utters the famous line "I'm hip about time". He features in the upcoming "The Perfect Age of Rock 'n' Roll" whose cast is led by Jason Ritter and Kevin Zegers.
httpv://www.youtube.com/watch?v=73PnAymHAHk