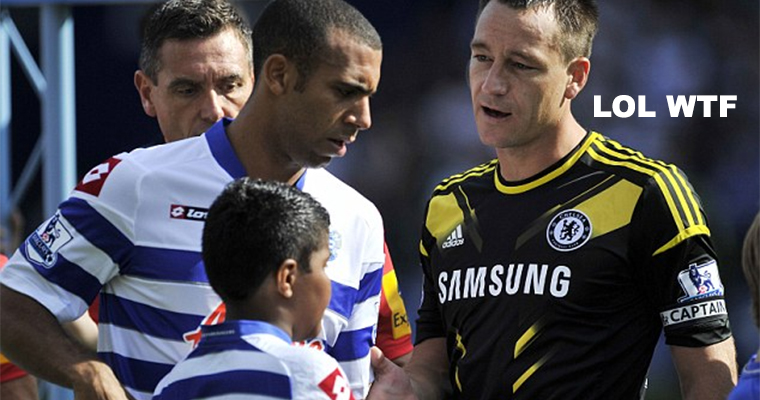 1. Pre-Match Handshakes Must Be Kept
With a list of accomplishments that include giving illegal tours around Chelsea's training ground for 10 grand a pop, cheating on his wife with a teammate's ex-girlfriend,narrowly escaping a charge of racial abuse earlier in the year, photobombing everything he can get near and being stripped of the England captaincy on multiple occasions, you'd be hard pressed to find anyone who would willingly shake the hand of John Terry. Not least Anton Ferdinand. The QPR defender and brother of Rio dodged handshakes from Chelsea's own Teflon Don, and his teammate and rival for mantle of 'Worst Guy Ever' Ashley Cole, and it was hilarious. The perplexed look on Terry's cretinous boat was priceless and re-affirmed my stance that pre-match handshakes MUST stay, if only to remind England's brave JT that he is a massive bellend on an annual basis.
2. Arsenal Could Be Title Contenders
Despite losing their captain for a second successive summer, Arsenal are doing just fine. The north Londoners are sitting pretty in third following their 6-1 dicking of Southampton at the Emirates on Saturday, with Gervinho getting all predatory, scoring twice after a sumptuous Lukas Podolski free kick. Robin van Persie may have scored practically all of their goals last term, but as detractors are quick to point out, they won nothing. Again. Worse still, they could barely lay claim to playing the best football in the league, as is the tiresome norm. This term however, Arsenal look refreshed, ticka-tacka'ing their way to a four game unbeaten run that has somewhat softened the blow of losing their talisman to Manchester United. At 10/1 for the title, the Gunners may be worth a punt this season.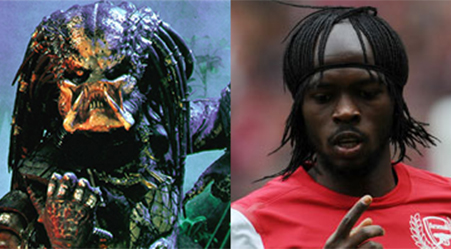 3. American Kit Suppliers Are a Sick Joke
Tottenham managed their first win of the league season this weekend, with two Jermaine Defoe goals seeing off newly promoted Reading. But what in God's name were they wearing? You know when people go fvcking bat shit mental and cover various body parts in tin foil so that extra-terrestrials can't read their thoughts or hijack their bodies? Well, that's a lot like what Defoe and co. looked like on Sunday in their silver and black patchwork third kit. One can only assume American manufacturer Under Armour are embroiled in a sick practical joke on the English, or even a bet with compatriots Warrior Sports over who can produce the most positively jank strip of the season. Good effort Under Armour, but this fetching purple/orange/tribal? number takes it by a whisker.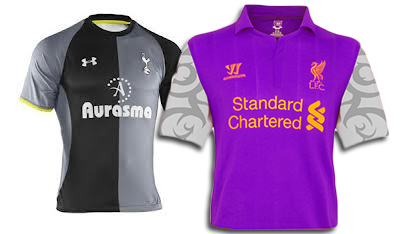 4. Football Has Class (Sometimes)
The great Bill Shankly once proclaimed that football was not a matter of life and death, but that it was far more important than that. In jest or otherwise, he was wrong, as Monday night's moving tribute to the 96 Hillsborough victims at Everton's Goodison Park will have attested. Prior to their controversy-laden 2-2 draw with Newcastle, the Merseysiders sent out a mascot in Liverpool's red and another in Everton's blue, holding hands in the centre circle, with the numbers 9 and 6 respectively on their backs. A fitting close to play on a week in which documents containing the truth of what happened 23 years ago in Sheffield were released. Now let's never buy The Sun again, yeah?