When you think back to the start of the pandemic – that's almost a year ago now – you kinda forget that initially you weren't required to wear masks in shops and other enclosed public spaces, but that this was only introduced as a law on July 24th 2020. It's been so ingrained in the national identity since then though, that it's pretty easy to forget that this was the day when it became compulsory.
Images VIA
One man who won't ever forget this date though is Frederik Filz (pictured above), the CEO of one of the only 'legitimate' mask companies out there. This was the day when he knew that his idea to import high quality masks from factories in China and sell them at affordable prices was going to grow and grow over the coming months, and also the day that he decided to drop out of his Oxford University master's course in computer science to pursue this dream with Mask Bros – and he hasn't looked back since.
Unlike many of the mask resellers that showed up between March and the end of the summer last year, it seems like Freddie arrived at the decision to sell masks not out of a desire to make a quick buck – although he's keen to stress that it's a for profit company and this was a factor in his thinking – but more from a genuine feeling of personal responsibility to help those in a less fortunate position than himself. This can be seen by the fact that he initially started an organisation called 'Students Against Coronavirus' with his sister Irina when the pandemic first hit Europe, aiming to providing safe guidance to help deliver medical supplies and groceries to those in need.
It was inspired after his grandma in Meppel over in the Netherlands was unable to obtain these essential supplies herself: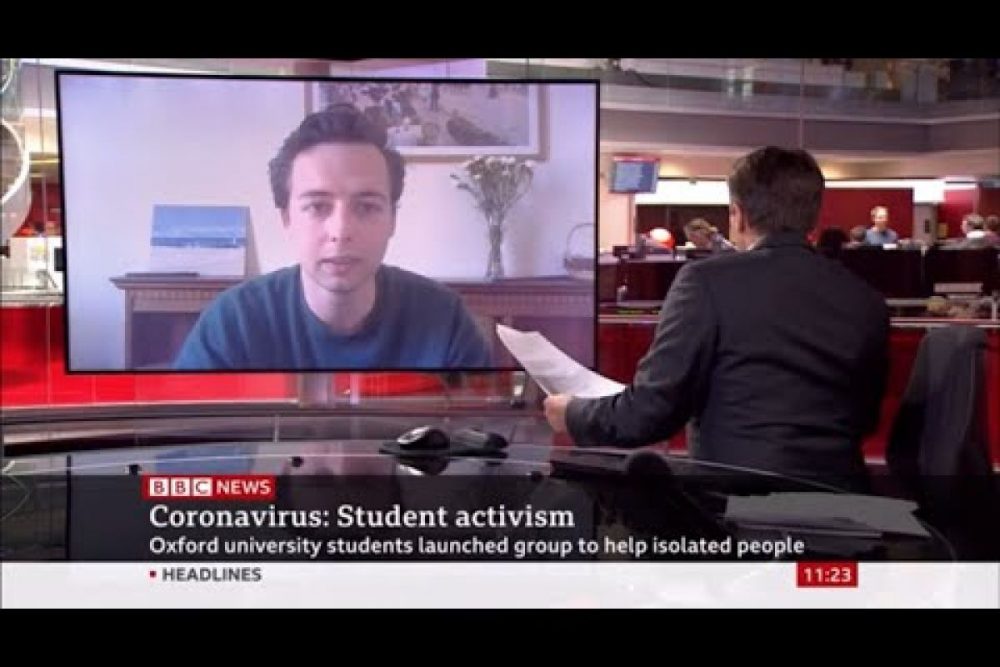 We saw that there were so many community Facebook groups against Coronavirus all over the country and Europe and obviously it was super inefficient as they were all working independently.

Everyone had to reinvent the wheel, which obviously leads to process problems l and most importantly hygiene protocols weren't really being adhered to either.

If one volunteer was an idiot or didn't adhere to a set or protocols, then that could have put the whole operation into jeopardy – so we pooled all the resources and set up a definitive framework of how to set up one of these groups in your own hometown.
Now that doesn't really strike me as the actions of somehow whose sole intention is to profit from the pandemic, does it? Indeed, the organisation was so well received and successful that it was covered by BBC Word News – I think they kind of needed a feel good story around that point in time (April 2020) as everyone was so down about the virus – and they ended helping over 100,000 people across Europe.
One thing led to another and it wasn't long before Freddie was tasked with sourcing PPE for some of his volunteers within the group, as again you may have forgotten that at the start of the pandemic there was a very real shortage of PPE and masks in this country and it was a major problem. Thanks to his contacts at Oxford University Freddie was able to contact factories in China directly and find out that it was impossible to procure these masks and PPE on the smaller scale that he required – 'My friend laughed in my face when I tried to order 10,000 masks – he said the minimum order quantity was one million!'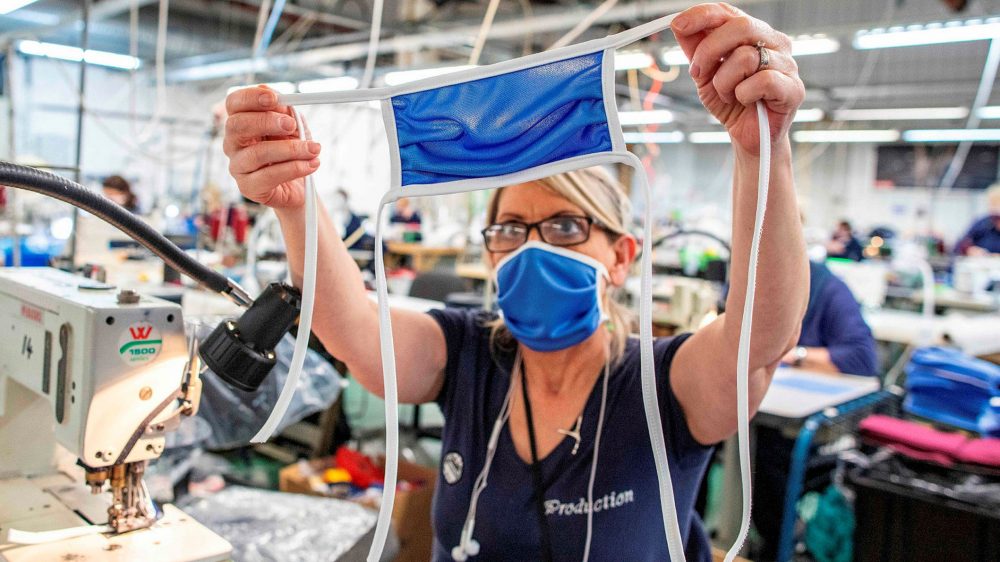 In the end, Freddie just decided to bite the bullet and order a million masks and try and procure government contracts for the excess, and it was then that he realised that the next step would be to sell these masks to the public – and this where he saw the opportunity to begin Mask Bros. Freddie was already in a WhatsApp group with his Oxford colleagues where they bounced various business ideas off of each other – including the guy who introduced him to the factories in China – and all of them agreed that it might be a good side hustle to start selling masks to the public as they already had the supply chain in place from Students Against Coronavirus. The group was already called Mask Bros and this was the name that was adopted for the venture – 'it's a cool name and I felt like people identified with a brand and our honesty, rather than the numerous nameless and faceless suppliers we were in competition with at the time'.
One of Freddie's co founders was Cogan Wade, who he had met whilst studying at St Andrew's and was still finishing off his undergraduate degree there. Incredibly, the university really backed the initiative and made a huge press release around their launch, putting it out to local news agencies all over Scotland, leading to pretty much the whole of Scotland talking about Mask Bros when they first started. The pair had 130,000 mask orders within the first week thanks to this support and would literally sit in Cogan's flat in St.Andrew's and pack masks all day, every day for three weeks when they were first getting started.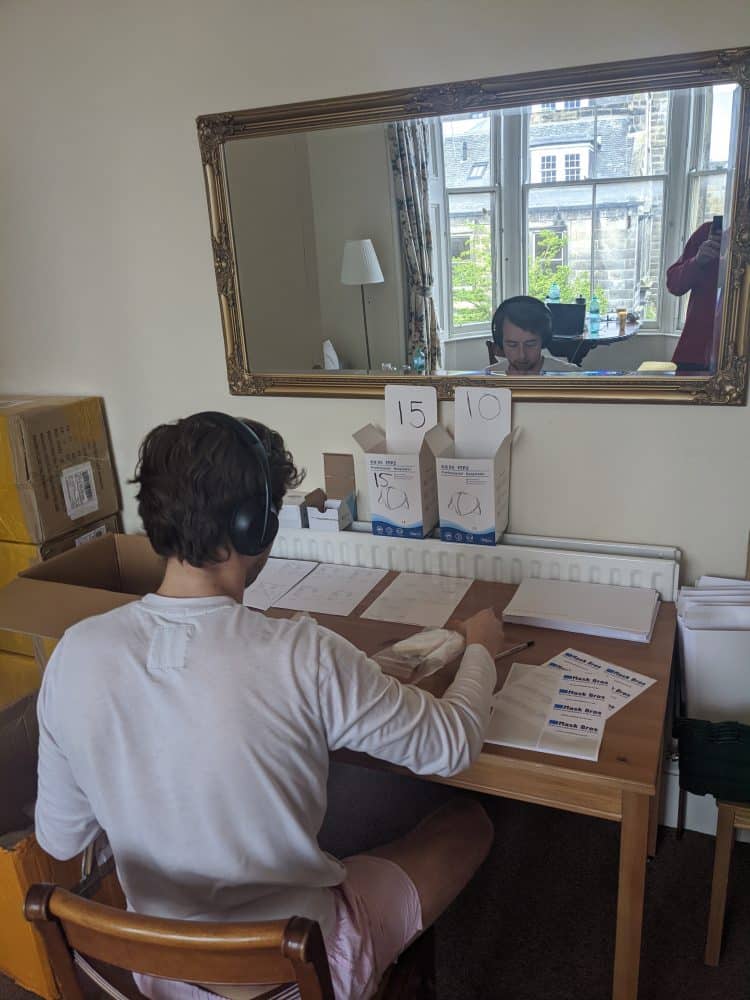 Following this initial success, the pair saw that there was clearly a market for their product and didn't want to waste any time advertising it with the profits that they had already made. Big tech had blocked advertising masks online – the shortage of hand sanitiser at the start of the pandemic because of people trying to make a quick buck shocked everyone and they wanted to avoid the same situation with masks – and so Mask Bros went straight to television:
We had no idea that masks would be made compulsory in public spaces in the UK on July 14th, but we embarked on our biggest television campaign in the run up to that date.

We spent £200,000 on television that week and then at the end the announcement was made and orders went through the roof.

I'll never forget that day, literally thousands of orders came in, and there was a six day backlog in our warehouses.
Yes, even at that point it had only taken Freddie and the rest of Mask Bros a couple of months to get out of Cogan's bedroom and to scale the rest of the business, instead turning to fulfilment warehouses to sort out their orders with locations in United States and the Netherlands alongside one over here near Bristol. It's a change that Freddie has welcomed with open arms:  'Thank fuck I never have to see another mask again!'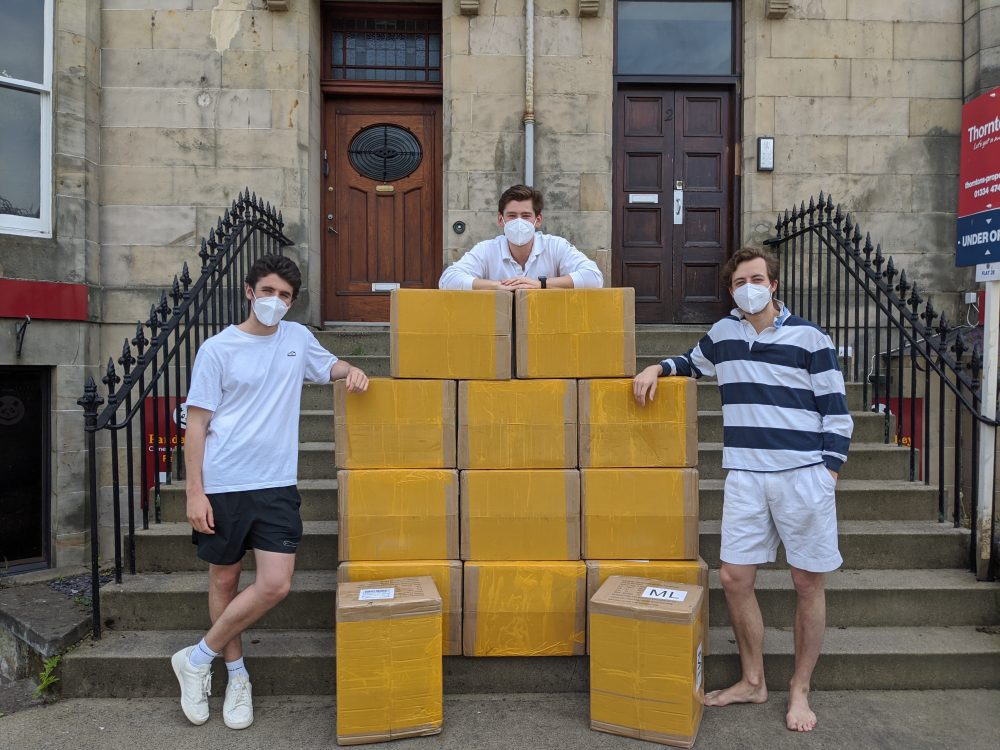 It's the fact that Mask Bros were able to expand and grow so quickly that is most impressive aspect of this operation, but it's clear that they haven't decided to scrimp on their ideals in pursuit of excessive profit either. Sure, they may have had some advantages that may not be available for everyone – I don't think we call claim to know someone with an intimate knowledge of the factory scene in China, or has enough money lying around that they can just order a million masks without it being too big a deal for them and then casually spend £200,000 on television advertising as well – but it at least seems like they are committed to selling masks in the 'right' way. This is something that was severely lacking from all the other stockists that popped up and just as quickly disappeared during the peak mask selling months of the summer of 2020.
It's evident from just looking at their website that Mask Bros are very different to other companies in their field. They have a Trust Pilot score of 4.5 based on 2000 reviews – all of which Freddie assures me are real – and claim to be obsessed with customer satisfaction, and are also known for their charitable donations,  recently sending over 10,000 masks to Doctors With our Frontiers for example. They're also already looking to solve other problems that have arisen due to the increase in mask wearing over the past year, namely by developing the first fully recyclable mask product that they've christened the EcoBreathe.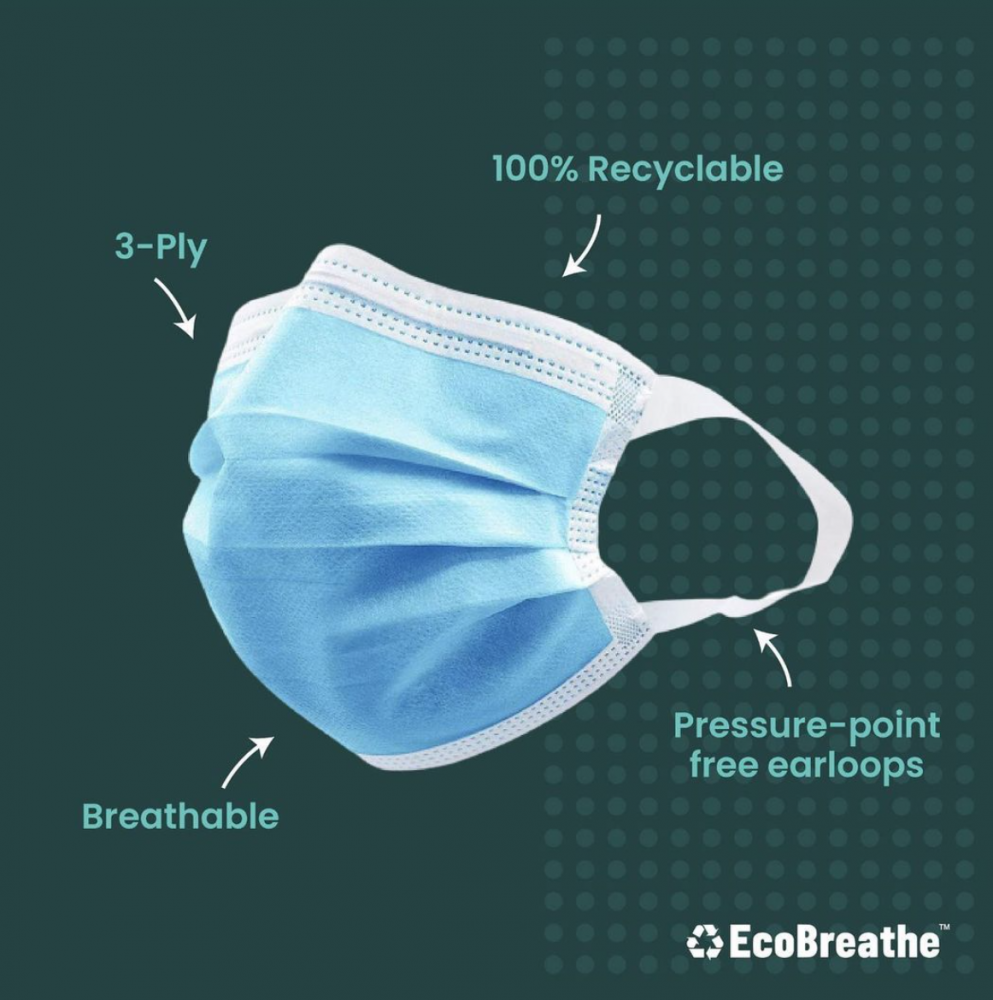 Freddie tells me that UCL released a study last summer that calculated the surplus of masks from the pandemic would lead to an additional 46,000 tonnes of household plastic waste a year, which is by no means an insignificant amount. Mask Bros decided the needed to do something about this and that's how the idea for the EcoBreathe came about:
Masks aren't actually made out of cloth, but out of a plastic called non woven poylpropylene.

You can change the texture and composition of the mask depending on which polyene you put in and you can use the same material to make the ear loops and the nose clip.

So we made the whole mask out of polypropylene, whereas previous masks would use polyurethane and an arid composite instead, meaning that we could quite easily just recycle it as one unit without any hassle.

We have a patent pending on it and have already sold 50,000 of them.
I don't really understand the science behind that, but I understand the end result and it's innovation like that which proves that Mask Bros are committed to sustainability and are again not just out to make a quick buck and exploit the sudden global desperation for good quality masks. They've already partnered with Terracycle in the UK and PureCycle in the US to achieve this goal and are trying to make it as easy as possible to recycle their masks – they're already seeing a 50% return rate with the others being recycled locally – and this makes you think that they really care about trying to offset the negative effects of their endeavours. They're selling masks the right way, unlike so many of their competitors.
Their path to world domination in the mask industry has always been based on this approach and this has led to them butting heads with a few high profile industry giants, most notably Boots. Well, I say butting heads, but I should really say that they actively went after them and succeeded in exposing them for their horrendous price gouging on masks through a piece of inventive guerrilla marketing.
You see, Freddie and the rest of Mask Bros knew the price that they were paying for the masks they were picking up and could see that the prices that Boots were charging in May last year were grossly overinflated. However, they wanted more evidence of this before calling them out publicly, so Freddie posed as an industrial buyer for their manufacturer and managed to get their wholesale prices in writing, revealing that Boots were making a quite frankly disgusting 500% markup on each mask sold:
Normal retail mark-ups are usually 100% tops and for Boots to be doing this when masks were an essential item in low supply and they had a responsibility to the people in this country was really gross.

Once we had the data, Mask Bros decided to publish a big report on it and send it out to local and national newspapers and it wasn't long until places The Daily Mail and The Sun were running it.

Boots dropped their prices by 25% the following day.
There's no doubt that stunts like that ultimately benefit Mask Bros as a company, but you can't really criticise the company for seeking to help everyone as well as themselves. Thanks in part to their efforts, Freddie is happy to report that there are hardly any other of the heinous players that were prevalent in the market three months ago still trading. Again, this kind of PR is characteristic of a new breed of brands that are happy to spend their time and money performing tasks that benefit all of society and then subsequently let the free market process this information and choose how to react to their product. So far it seems to be going well for them – I've already mentioned their TrustPilot score but PR like that is going to go a long way to shaping opinion of the company in the public consciousness as well.
For those of you who are wondering what Freddie might do after the pandemic is finally over, he's confident that the mask industry isn't going anywhere in the future either, even when COVID-19 is hopefully a distant memory. A Mask Bros survey revealed that 60% of people planned to continue wearing masks in the future – whether due to air quality or other reasons – and he also casually lets me know that the mask industry was already a $50 billion industry even before the Coronavirus hit. There's always going to be demand for what Mask Bros is doing.
Image VIA
Even if there isn't though, Freddie doesn't seem phased about what the future holds for him and believes that his experience with Mask Bros stands him in good stead for whatever's next:
You would think buying masks from China, you sell them on a webshop, you think it would be easy, but I'm telling you man, it's hard, it's fucking hard.

I can definitely see myself doing this for another six months at least, regardless of what happens to the market.

If masks are over though, I can just do the next product now that I have this insane supply chain network.

I'll just hop to the next thing continuously.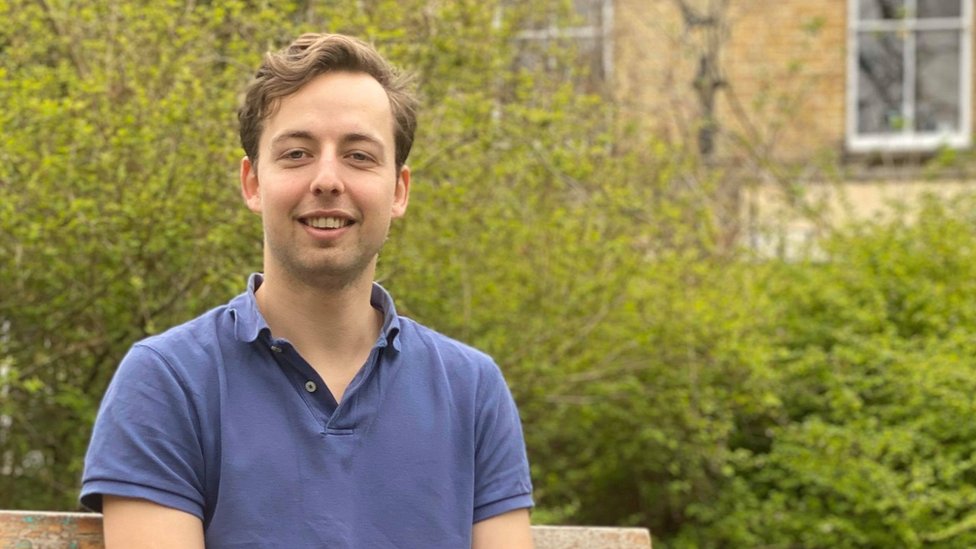 Whatever happens to Mask Bros, it's been a crazy journey for Freddie, Cogan and the rest of the company – there are fifteen full time employees at the time of writing, located all over the world from Arkansas to Bahrain via South Africa – and it seems like the journey will only have aided them in however they choose to pursue their careers in the future. It's unclear as to whether any day will ever be as unforgettable for them as July 14th 2020, when they knew that they could drop everything and pursue Mask Bros full time, pretty much taking it to the moon.
As our conversation ends, Freddie does offer one further hint that his future may lie away from masks 'I fucking hate wearing masks – you have no idea.' But hey, if you can swing a buck out of it and help a bunch of people in the process, I guess it doesn't matter, right?