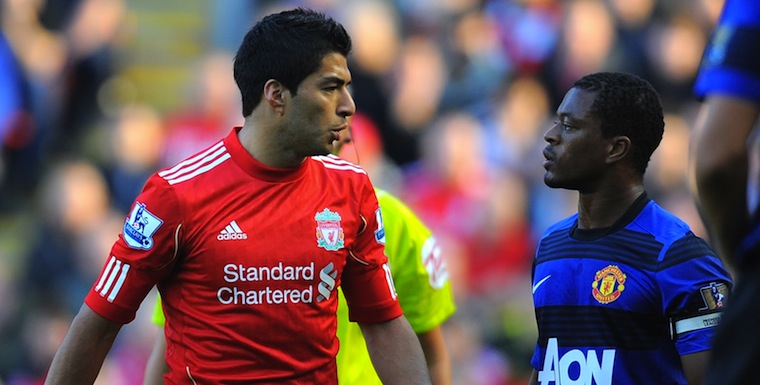 The summer of 2011 was long and wet with only Diego Forlan's gorgeous face at the Copa America to break up the tedium. The seasonal malaise was accentuated by a series of 'will he, won't he?' transfer sagas that trailed on well into the season. In the end Cesc Fabregas finally returned to Barcelona to fulfil his god given right to guzzle paella, pass sideways for 90 minutes and not have to listen to whatever absurdities Emmanuel Frimpong is spouting on any given day. Samir Nasri similarly got the hump and did one to Manchester City who had also added Sergio Aguero for X bazillion million pounds to their line-up whilst saying no dice to the few credible suitors for arsey man child Carlos Tevez. Wesley Sneijder also stayed put in Italy as Manchester United weren't willing to build the platinum plated volcano and dinosaur theme park that he was requesting on top of his eye watering wage demands.
When the football actually started it was bloody good with Manchester United clawing back a 2 goal deficit in the Charity Shield to emerge victorious over their noisy neighbours 3-2. Manchester City's Edin Dzeko set about dispelling rumours that he's gangly, goal shy oaf by banging in literally all of the goals in August, including four in a drubbing of Tottenham. The month ended with City and United topping the Premier League with the Reds nudging it on goal difference, thanks in no part to their astonishing 8-2 demolition of a callow Arsenal side at Old Trafford.
As the transfer window closed and we all stood back to sort out the strokes of genius (Yakubu to Blackburn for tuppence) from the strokes of lunacy (Stewart Downing to Liverpool for £20 million) as Arsenal continued to be the main talking point of the league. Robin Van Persie set about elevating himself to the elite echelons of the game whilst a rotating cast of clowns at the back ensured that The Gunners managed to concede more than he scored. A 5-3 capitulation against a genuinely woeful Blackburn Rovers side represented the nadir of Arsene Wenger's lengthy stewardship, as for the first time his position was called into question by fans and pundits. Manchester City still steamrollering all and sundry domestically were finding the Champions League a little more tricky, especially when former talisman Carlos Tevez refused to warm up when asked, as they slumped to defeat against Bayern Munich. The incident sparked outrage with an incensed Roberto Mancini declaring himself 'finished' with the prolific Argentinean goblin. Tevez denied the accusations before sensibly going AWOL in South America for a bit and has been on formal gardening leave since as City search for a suitor. September ended with United again ahead of City by mere goal difference — with two dire North West sides, Blackburn and Bolton, deservedly propping up the division.
October was punctuated by the final round of qualifiers for Euro 2012, where England did enough to qualify automatically by securing a 2-2 draw in Montenegro, but not before our follicly challenged talisman Wayne Rooney allowed a red mist to descend and kicked someone really hard on the back of the leg — like you would aged 7 if you were fighting on the playground. UEFA responded with a three match ban, ruling the striker out of the tournaments group stage. The nation wailed and gnashed its collective teeth at this; Scotland, Wales and Northern Ireland laughed heartily from the loser's corner whilst the Republic of Ireland absolutely hammered footballing titans Andorra 0-2 on their way to a playoff spot. Back domestically things got a bit mental as Patrice Evra accused Luis Suarez of racially abusing him during Uniteds 1-1 tie with Liverpool, setting in motion a series of events that are still rumbling on today. Man City then strolled into Old Trafford and inflicted a spanking the likes of which have never been seen in The Theatre of Dreams. Aguero, Silva and Balotelli – fresh from setting his house on fire – ran amok as the reigning champions were routed 1-6. The result is rumoured to have caused Sir Alex Ferguson to projectile vomit molten bleach fvcking everywhere. Lionheart John Terry joined Rooney and Suarez on the naughty step with a dunce hat on when he was accused by Anton Ferdinand of racist abuse during Chelsea's ill tempered match with QPR. Chelsea new boy Andre Villas-Boas continued to struggle to imprint his style on JT and Lampsy's geezers club with inconsistent results setting tabloid tongues wagging. In other news Newcastle, fronted by free transfer of the century Demba Ba, kept up their astonishing start to the season and went into November 3rd placed as Man City lead the way. Robin van Persie kept scoring and Arsenal's defenders were a bit less crap.
November however turned out to be an even stranger month as football lurched from one controversy to the next. The first involved the issue of poppies on international shirts which was outlawed by FIFA in line with their consistent laws on political imagery – the froth from deranged Daily Mail readers is due to subside in March sometime.
On the pitch England finally realised their true limitations as a side of hard working cloggers and embraced them as they beat a both a full strength Spain side and Sweden 1-0 at Wembley in the space of a week.
The lack of on pitch action meant that some people actually took time out of their day to care what David Beckham does next following the end of his LA Galaxy contract. The Suarez/Terry racism rows rumbled on and Sepp Blatter showed Colonel Gaddafi how being a corrupt unelected despot is done by receiving world wide condemnation for his remarks about dealing with racism in the sport before laughing it off, cos you know, he can… and that's cool apparently. In the same week Tokyo Sexwale provided some perspective for people called Dwayne.
Tragedy struck the game on November 27th as former Wales boss and Premier League legend Gary Speed took his own life. Slightly less tragically, school dinner lady lookalike Steve Bruce won the all important sack race for being super crap at his job. Beleaguered loser Steve Kean looked on enviously dreaming of the day he would get fired and be able to drop his absurd 'everything's fine' spiel in the face of Blackburn's umpteenth spanking in a row.
Newcastle finished the month holding onto the crucial 4th spot in the league, a fact that crafty fat man, Mike Ashley thought might help smooth over his re-branding of the historic St James Park to sPortzD1Rekt@Arena_LOLZ or something. Tottenham meanwhile had quietly been going about winning loads of games, spearheaded by a worthwhile striker in Emmanuel Adebayor for the first time in yonks, taking a stranglehold on 3rd going into December. Man City were still out ahead of United by five points.
December saw surprises in Europe as both Manchester teams crashed out of the group stages of the Champions League with United falling at the hands of lowly FC Basle. They join Stoke City in the knockout phase of the Europa League following Birmingham, Tottenham and Fulham's early exits from the competition. Despite lagging domestically Arsenal and Chelsea made the cut for the Champions League last 16 but a tricky draw sees them face Italian big boys AC Milan and Napoli respectively. Back to the naughty step and Rooney was let off it as the FA went to UEFA with its smartest suits and a 'soz' letter from Wayne saying how very silly he was. Like a kind father UEFA reduced Rooney's Euro 2012 ban to two games, the nation rejoiced. Worlds Most Charismatic Man Michael Owen was probably gutted. Suarez was found guilty of racist abuse by the FA after much hand wringing and document writing. Liverpool were resolute in their defence of the Uruguayan scamp despite the conclusive arguments in the FA's report, issuing a 'sorry, but not really sorry' apology and implying that Evra cries wolf on these matters. It all got pretty embarrassing with everyone wishing that someone would remove the spade from Kenny Dalglish's hand a.s.a.p. Elsewhere Chelsea handled the John Terry case with a bit more dignity as he was charged by the police for using racist language. Top bloke JT, top bloke. Back on the pitch Robin Van Persie continued his anus mirabilis falling one short of Alan Shearer's record of 36 Premier League strikes in a calendar year, a feat made all the more impressive by the fact that rest of the Arsenal squad contributed an entire 1.3 goals between them in that period.
The World Club Championship came and went without anyone paying much attention. Bastard child of Ronaldinho and a bag of spaghetti – Neymar raised a few eyebrows with some amazing/a few quite crap skillz against Kashiwa Reysol (pfft) before bagging this pearler. With the worlds hopes raised for a WCC first — a competitive final – Neymar's Santos inevitably got spanked by Barcelona in the final with David Villa's leg break the only other point of note.
The annual glut of football that Christmas brings was welcome relief from all the bloody racism going on. Back to back defeats for Man United were noteworthy as the bottom half of the league briefly pulled its socks up over the festive period. Less striking was Joey Barton getting sent off for doing something stupid, Neil Warnock carping on about everything before getting the sack and 'Arry Redknapp getting all giddy and coy in equal amounts about the impeding transfer window. Mick McCarthy continued giving the best post match interviews ever and a few players from these shores jetted off to Gabon/Equatorial Guinea for the biennial African Cup of Nations. Look forward to a couple of in form mavericks being panic bought in the aftermath of the tournament before sliding into Premier League ignominy. Elsewhere Arsenal and Manchester United plugged the gaping holes in their squads with Thierry Henry and Paul Scholes with Wenger and Ferguson citing a lack of value in the January transfer window for their moves, something which is certainly begs the question of both — why the hell didn't you address the painfully obvious flaws in your squads that have been apparent for about 4 years in the summer then? Stupid, shit managers that have never won nothing, the pair of them.
And that's that so far. Who knows what the second half of the season will hold? Games? Possibly. Goals? Perhaps. A Ku Klux Klan presence at Premier League grounds? Certainly. England whupping some Euro ass at Polkraine and winning that shiny shitter? Sure thing.