As artificial intelligence becomes increasingly sophisticated, the fear that we are going to be taken over by our own creation is becoming more realistic every day.
Featured Image VIA
Tapping into this fear, a hacker recently hijacked over 150,000 internet-connected printers that were left unsecure, forcing them to print out pictures of robots.
In the prints, the hacker included a warning message advising owners to disable remote access to prevent the printers being used in botnets. If anything, it's a warning that hackers are now able to infiltrate other technology and companies should try to stay protected.
The attack was carried out by a hacker known as Stackoverflowin. He told 'Bleeping Computer' that he wants to raise awareness of the dangers of leaving internet-connected printers unprotected. To do this, he took his message directly to the owners.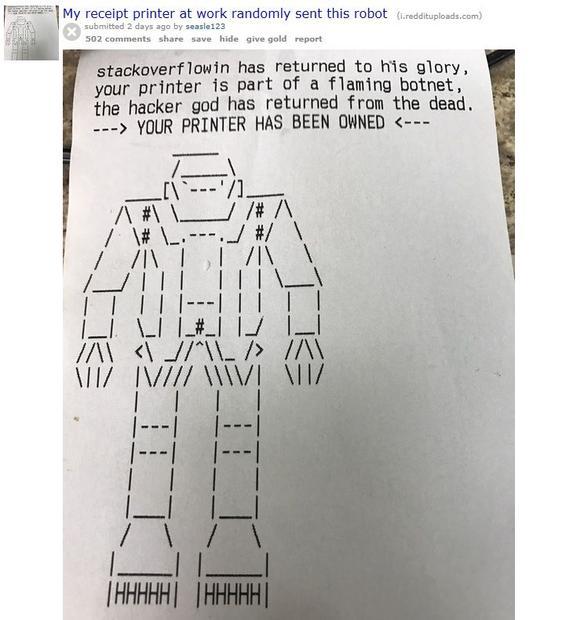 An automated script was used to scan the internet for insecure devices. As soon as users discovered the message, which affected printers from manufacturers including Canon, Epson, HP, Konica Minolta and Samsung, they took to social media to ask for information of the origins of the message.
Fortunately Stackoverflowin's intentions are good and were only used to warn about the flaws in connected devices. But it just goes to show how vulnerable technology is to hackers these days. If the control of these printers got into the wrong hands, they could look at documents stored in its memory, which could be exploited to extract sensitive information such as company details and financial transactions. We're living in a new age now – nothing is safe and the best companies and nations can do is to protect themselves as much as possible.
I think what we need to be worrying about is the fact that hackers are now able to access our porn history. Uh oh.