The vegan diet is becoming increasingly popular across the world, with many people adopting it as a way to stay healthy and decrease the demand for animal products.
Images VIA 
There are so many meat and dairy replacements out there now – not to mention vegetables, bread, pasta, rice etc. – meaning it should be pretty easy for any restaurant to whip something together for a vegan customer. However, this diner in Malaga, Spain, didn't get the memo, and when Georgina Jarvis asked for a vegan salad (because their "vegan pizza" actually contained egg) they served her this sorry excuse for a meal: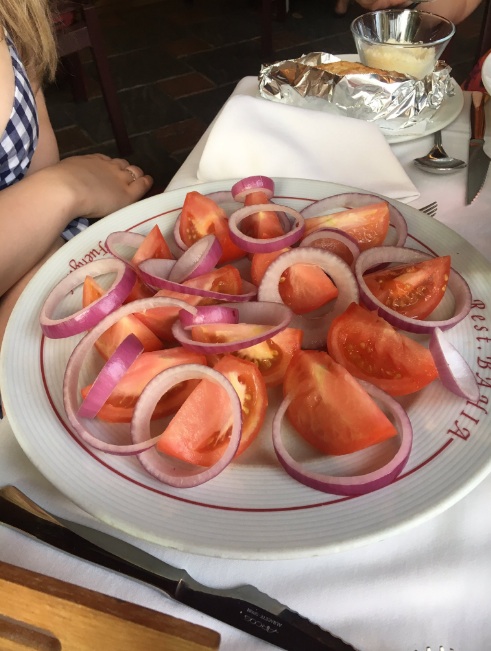 Yep, that's exactly what it looks like – a plate of tomatoes and some red onion rings (without the batter). What's even more unbelievable about the situation is that Georgina, who was visiting Malaga with her sister Gabbie, chose the restaurant specifically because it said it 'catered for vegans'. I think they might've overestimated themselves. Gabbie said:
I think we expected more of a salad for her with some lettuce and other veg maybe not just that.

When she received the food I couldn't help but laugh, we made pretty awkward eye contact with each other as staff were still serving us but I knew we were thinking the same thing.
https://twitter.com/gabbiejarvis/status/893904238581096448
After Gabbie had posted the pictures on Twitter, many people replied with similar experiences when ordering vegan food:
https://twitter.com/BabyMorton/status/894203048494596101?ref_src=twsrc%5Etfw&ref_url=http%3A%2F%2Fmetro.co.uk%2F2017%2F08%2F07%2Fspanish-restaurants-vegan-salad-didnt-quite-live-up-to-customers-expectations-6834730%2F
I was once given an entire packet of those "plastic cheese" squares and some bread

— Jo-Anne Hamilton (@Jolloy23) August 6, 2017
I was given one piece of iceberg lettuce between two slices of bread – one white and one brown, once. Great chef, clearly.

— TowerToTower-Frosty (@FrostyT2T) August 6, 2017
Just goes to show that although there are a lot more vegan people than there used to be, it's still going to be a while until every restaurant catches up. Until then vegans, don't order the salad.
Although most vegans would not be happy with a plate of tomatoes and onions, something tells be this raw vegan would be over the moon.