There's nothing more annoying then when you get a ticket from a speed camera, because you're almost always only going slightly over the limit when there's no cars around on an open road and it's almost impossible not to go slightly faster in those circumstances. What's more, those cameras are pretty much always situated in places that are literally DESIGNED to catch you out so the government earns more money from you. I fucking hate them.
That's why when a story like this comes around everyone is going to be absolutely stoked on it. It went down in Longlevens in Gloucestershire (probably the first time anything has ever happened there) when a dude called Jamie Britton noticed that a police speed camera car was 'dangerously parked'. That's by the government's own definition of what 'dangerously parked' meant – I doubt any normal person would agree that what the police van above was doing was actually THAT bad.
It was all thanks to this sign that was displayed on the road:
Images VIA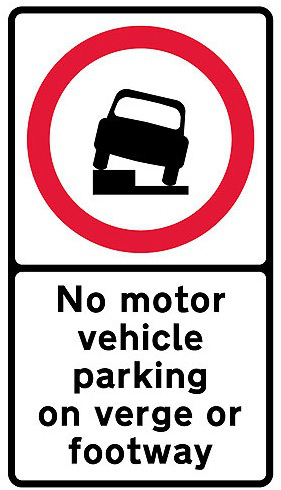 The van was actually blocking a cycle/foot lane – which let's face it is a bit out of order, but you would probably be kinda pissed if you got a ticket for it even though I imagine most of us reading wouldn't actually do that – and Jamie was quick to spot this. He got his passenger to take a photo (cleverly avoiding any questions about using a mobile phone whilst driving) and the offending driver has now been disciplined and fined by Gloucestershire police. Result.
Jamie had this to say about the piece of parking:
I was stunned to see how poorly the Mercedes van had been parked.

It was forcing pedestrians including mums with children on the school run to step into the busy road at rush hour.

I couldn't believe it, there was no way you could get past it.

They are there to improve road safety, not to make it worse.
Quite. Here's what Robert Vestey, team manager of Gloucestershire Police's camera enforcement unit responded with:
We have been made aware of the photograph showing a van parked across a pavement and cycle lane.

We do not condone such actions and we hope that the fixed penalty notice and management advice shows that this has been taken seriously.

A member of the police workforce is not exempt from following road and parking rules, which is why the individual has been treated as any member of the public would be.
Isn't that just great to hear? That finally police can't abuse their own laws and get away with it. It's only a small victory but damn does it feel good.
Let's hope something similar happens to this American cop who made all kinds of inappropriate homophobic comments when he pulled over a German kid for speeding.