With Boris Johnson's election last week and his campaign pledge to 'Get Brexit Done', it seems as though the process will finally come to an end (sometime in the next decade maybe) and that this has been enough to stop infamous Remain campaigner Steve Bray from shouting 'Stop Brexit' every day.
Images VIA
50 year old Steve has stood outside the Houses Of Parliament every day since September 5th 2017 in his stupid grey top hat and Union Flag, bellowing at the top of his voice that we need to 'Stop Brexit'. I'm pretty sure you probably would have seen him as h would constantly try and get into the shot of any news reporters with his anti Brexit propaganda.
Here's what Bray had to say about his retirement: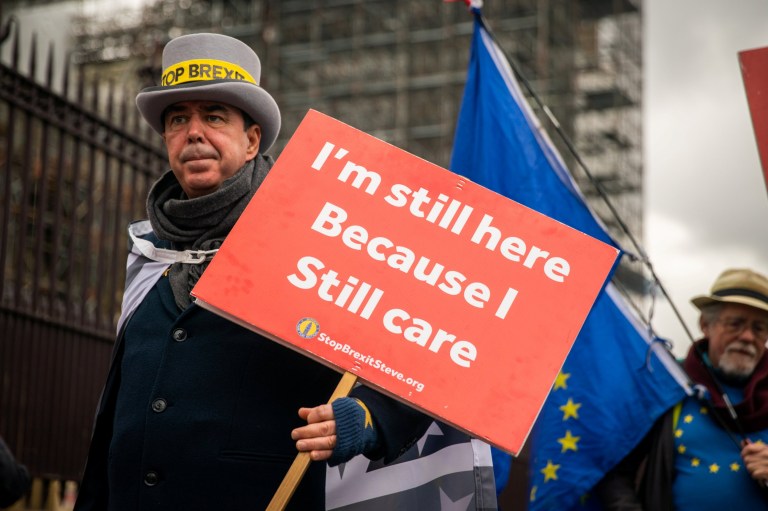 The fight goes on but our future campaigning will be about holding government to account and when the proverbial sh*t kicks in, we will look into how we can get back into the EU.

The majority of people, 53 per cent, voted for remain parties including Labour, Lib Dems, Greens and the Scottish National Party. That's 1.2 million more people who wanted to remain than leave.

That's why we desperately need a system of proportional representation. If we had a referendum tomorrow, we'd win it.

We haven't left yet. There's a tiny chance of staying in, so as long as we haven't left, there's still hope.

I don't blame those people that voted to leave after being promised the Earth, but the sad fact is that we are all going to end up in hell after Brexit happens.

Every single think tank including the government sad that we are going to be worse of with any form of Brexit.

We may have a high level of employment, but they are not quality jobs. They are zero-hours jobs.

The financial sector is the crown jewel in terms of tax revenue. Now the bankers are moving to Germany and France. Our standing in the world is gone.

We haven't given up and we are not going to give up. We need to take this time to reflect about how we campaign and how to become a force to be reckoned with.

As it stands we are the only effective opposition. We have to persevere.
Yeah I mean I doubt that's going to happen anymore but I guess we'll see over the next year as Boris 'Gets Brexit Done'. Can't wait to see how all that turns out.
For more of the same, check out these Brexit Survival Boxes that you can get for £300. Worth it.