I'm pretty much sure that everyone reading this has at some point woken up completely hanging and wished that there was some way that a Greggs sausage roll – or vegan sausage roll in 2019 remember – was available right there for you to scram down on and take away the pay, but it's just never been an option before has it?
Featured Image VIA 
That's all changing today though after Greggs today announced that they'll finally be available via a delivery service thanks to a new partnership with Just-Eat. Of course, they were already available via Deliveroo, but this was only an option in London, Birmingham and Newcastle and I'm not sure if the Just-Eat version is really going to really make much of a difference for a lot of people as they're only rolling out in Newcastle, London and Glasgow initially. Hopefully some more places will soon be added to both company's delivery routes though.
You're also only allowed to order one vegan sausage roll due to limited stock, but I imagine that you're more than welcome to order anything else on the menu to make up the rest of your order. Just get a chicken bake or something and allow the vegan roll for once.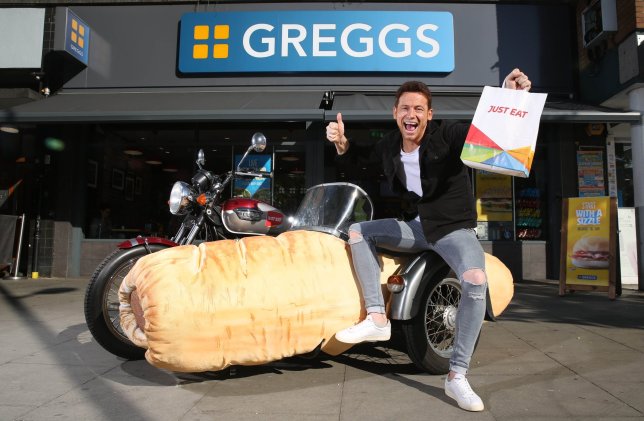 The launch was announced by Eastenders and I'm a Celebrity star Joe Swash because I guess nobody else was available (?) and he had this to say about it:
With Greggs now on Just Eat, breakfast and lunch just got infinitely better!

Their bacon rolls are my favourite, I reckon I'll be putting a few cheeky orders in myself!
What a soundbite, but it doesn't really sound like Joe knows anything about Greggs if the bacon rolls are his favourite. That's completely ridiculous.
You might have spotted him there in a motorbike with a sidecar with a sausage roll on it too – this apparently is a homage to the founder of Greggs and will tour the three aforementioned cities along with Joe to promote the launch. Sounds enthralling.
For more of the same, check out the Greggs bakery challenge. Even better now you can order.