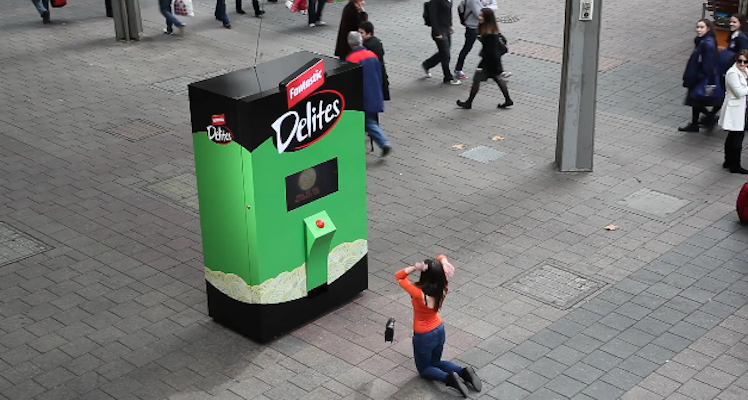 Australian snack manufacturer Fantastic Delights have taken vending machines to their next stage in evolution. Bored of the oh-so-predictable 'put your money in the slot and receive a snack' way of doing things, Fantastic Delights have designed the Delite-o-matic, which will give you free snacks if you obey it's orders. The orders usually consist of people performing random, and sometimes embarrassing acts in public.
The first task seems simply enough: push a big red button 100 times, but that then increases to 200, 500, 1000 and finally 5000, which is completed by a persistent Asian lady (insert 'level Asian' joke here). After these repetitive tasks, the next subject in hope of receiving some free potato based snacks is told the kneel on the floor, place their hands in the air and bow down to the machine, worshiping it like it their god. Hopping on one leg and dancing soon follow.
A great marketing campaign by Fantastic Delights? We think so. This video which was recorded by cameras set up around the vending machine placed in a busy public spot has gone viral over night. The end of the video leaves you with question "Did they go far enough? To be continued…". We wonder what sorts of tasks will be installed in V2.0 of the Delite-o-matic, being forced to read this in public maybe?
[yframe url='http://www.youtube.com/watch?v=R8RIqJLUYSE']