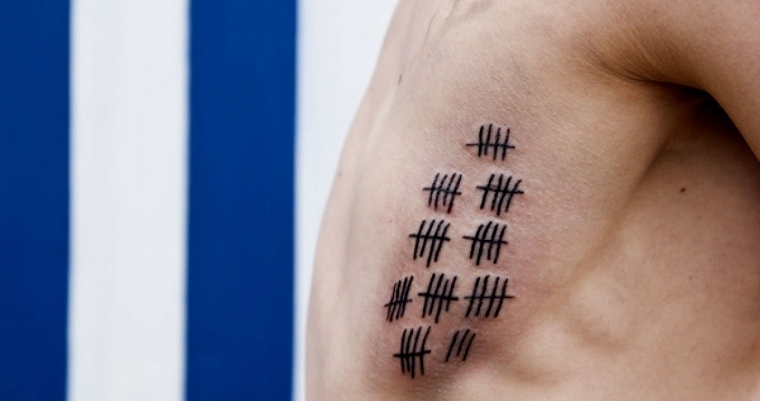 I don't really know whether this guy is actually a proper artist or not because when you check out his website, there's just boring pictures of things like benches and of him throwing high-heels into the air and of pillars with pink X's graffitited onto them. It's either really shit art or the guy's too much of a bro for me and I haven't got the mental capacity to understand his sickness. He seems really desperate for attention, though, and seeing as I can be a good Samaritan when I wanna be, I'll help a bro out. You never know, he might get famous as fuck one day and throw me some £. Always good to return a favour.
The guy's name is Tony Weingartner and using his artistic license (I'm pretty sure you can buy them in Primark or something), he's decided his latest 'work' will be to go hitchhiking and for every car that passes, he has to get a tattoo. Nah, it's not some motherfucking sleeve with mugshots of every driver of a car that passes or a neck-piece or whatever, he's not that hench.What he does get done though is little tallies inked on his ribs by his buddy, who just happens to be carrying a fucking tattoo gun in the middle of nowhere. Dedication.
The picture at the start of this article is of his ribs after he finally got picked up. If you're too high or fucked or are a lazy bastard, the tallies add up to 48. That's 48 fucking cars. You'd just give up, wouldn't you? But this guy is desperate. Desperate as a squealing pig being chased by an Amazonian tribe.
And it seems that perhaps all his desperation for attention has finally paid off. Check it:
Here are some more links to other shit tattoos:
Chris Brown Gets Rihanna's Beaten Face Tattooed On His Neck
2500 Year Old Tattos On Siberian Stoner
This Is Why Retards Shouldn't Tattoo
Synyster Ink – Worst Tattooist On The Planet