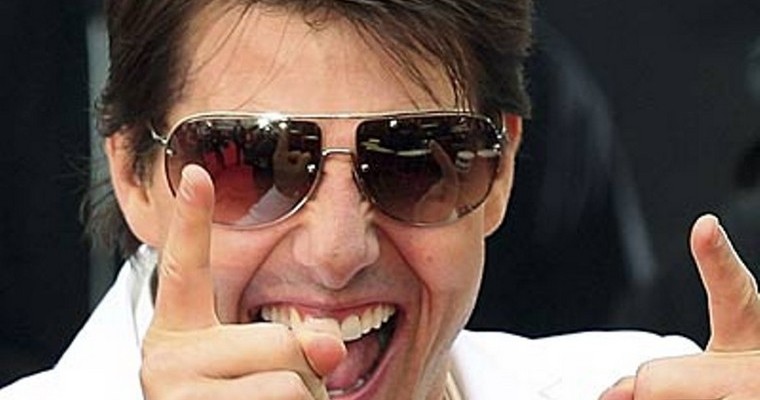 The media world has been abuzz this week with the news that Katie Holmes has finally realised how batshit insane Tom Cruise is and has decided to flee. Good for her. Although, she isn't the brightest Thetan in the cosmos as she surely should have heeded the stark warning of past sufferers of Cruise such as Nicole Kidman or Penelope Cruz.  Alas, she did not and therefore Sick Chirpse thinks it is only right that we consider who Top Gun's latest beau will be. And by doing so, hopefully we can send out a message in time (in the form of a Tweet or something) and prevent another fine ass lady from being subjected to such appalling speeches as this:
1. Oprah
Oprah seemed to absolutely love Cruise's 'antics' when he behaved liked a love-struck teenager on M-Kat on her show.  So with this in recent memory, perhaps he'll turn his creepy face in her direction and endeavour to mount her like the wild swine that he is. Although, having said this, Winfrey kinda has the whole world on her side and I guess her millions of PR advisors would literally shit a brick if anything like this came into fruition.
Crazy Factor: 0/10.
2. Meg Ryan
Hey you know when people say, "Gee, I just can't get enough of Meg Ryan's awesome ass films"? Yeh, nor me. She could definitely do with some publicity; we could definitely do with her never acting again. But yeah, it would be a match made in 'look at me, I'm still alive' heaven if those two shmucks got together. The one redeeming feature though, if this did occur, would be that if they were a couple and were tied at the hip, then there's always that possibility that they might go backpacking in a non-descript and derelict part of Europe. In doing so, they might get kidnapped by a crazed fan who doesn't know the 90′s is over where they'd be subject to hours of said captor shouting "SHOW ME THE MONEY!" and making Meg Ryan repeatedly feign orgasms (like in that film that no one of our generation has watched but has somehow encountered that scene an infinite number of times). Two birds, one stone.
Crazy factor: 3/10. Jerk factor 8.7/10.
3. Paris Hilton
What won't she fuck? Something that's been dead longer than approximately three hours is my answer. She deserves a lifetime of Cruise anyway after playing a shitty DJ set in Brazil last weekend:
 Crazy factor: 2/10. Likelihood of developing stringent dependency to coke after a few weeks of Cruise's lectures: 9/10
OK, admittedly this is a long shot but he needs a shoulder to cry on at the moment and by the sounds of it, preferably a dude. For one thing he looks like shit. Like terrible. He kinda looks like TV's biggest loser David Gest after Liza Minnelli beat the crap outta him. But more importantly, old Johnny boy has gyrated his way into the media spotlight recently after requesting a threes-up with a male masseuse by alleging he had a 'Hollywood starlet" waiting at his hotel. It says a lot about America when an actor would rather be considered a sexually repressed Scientologist nutbag than to just come out and be gay. Shame on you America, shame on you.
Anyway, I think Tom and John need each other right now because they're probably down in the dumps – and no fixed donation to your tax exempt bullshit church is gonna help. Also, the first date wouldn't have that awkward 'So tell me about yourself….Oh you happen to be a complete whackjob' moment. Furthermore, he might invite the Australian football team over to serenade again which would be pretty jokes.
Crazy factor: 10/10. Chances of the duo making a film worse than Battlefield Earth: 7/10 (here's hoping).
So there you have it. The most likely contender has to be our man in Amsterdam, Jonny T. However, I don't think we should try and prevent this. The idea of John Travolta and Tom Cruise being joined together in holy matrimony would be the oddest and most beautiful moment of the twenty first century thus far – bettered only if Nicolas Cage played role of minister.
Anyway, have a delightful day and if any representatives of the Church of Scientology are reading this: please don't proceed with any legal action or follow me around in tinted-windowed cars. I'm just joking around- a bit like what Tom Cruise's agent did when he convinced him to star in Knight and Day. ZING. See ya.
(For more inane ramblings please follow me: @Josephtinkler)