Follow us on Facebook:



The Daily Mail has a lot to answer for, peddling its guff across the earth. It sells around 1.7 million copies a month. To be precise this bumbling behemoth managed to shift ONE MILLION SEVEN HUNDRED AND EIGHT THOUSAND AND SIX copies in March 2014 alone. Now, I know the Daily Mail is easy to digest and has an excellently wry sense of humour. But do we really need to fund this twaddle? For instance, they pronounced earlier in the year that smoking during pregnancy makes your baby gay FFS.

The physical copies of this daily rag are of course just the tip of the iceberg. The Daily Mail's online vessel is as shonky as the paper version, if anything it's slightly shonkier. Nestled amongst the never-ending lists of what gives you cancer you will find the "celebrity" items. I've found myself perusing this cyber aisle way too many times now and I'm not sure why?

So, every-so often I feel the need to name and shame the banality found within these wall. Here are today's non-news items:
1) Girls Wearing Clothes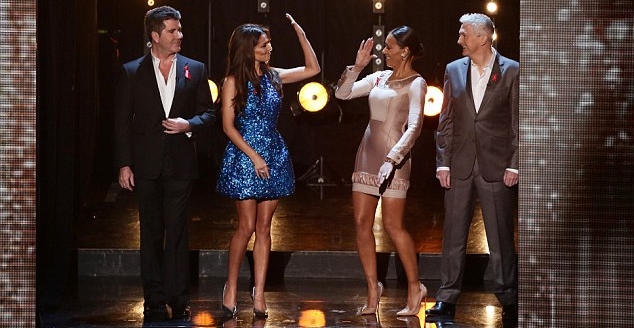 Website: Daily Mail Online
Headline: Thigh's the limit! Cheryl Fernandez-Versini shows off her new darker hair in bright blue minidress as Mel B opts for a body-hugging nude frock at X Factor results show
More Fitting Headline: Two Pillocks Attend Vacuous TV Show Wearing Dresses
Summary: Cheryl Fernandez-Versini (who looks very much like Cheryl Cole to my eyes?) and one of the Spice Girls go on telly adorned with "clothes". One of them is wearing a horrid beige outfit and the other is screaming "LOOK AT ME!" in a blue thing made out of sparkly paint chips.
Quote To Note: "Nude heels completed the look".
Favourite Reader's Comments: "You have lots of money fix your nose".
TRENDING
LEAVE A COMMENT