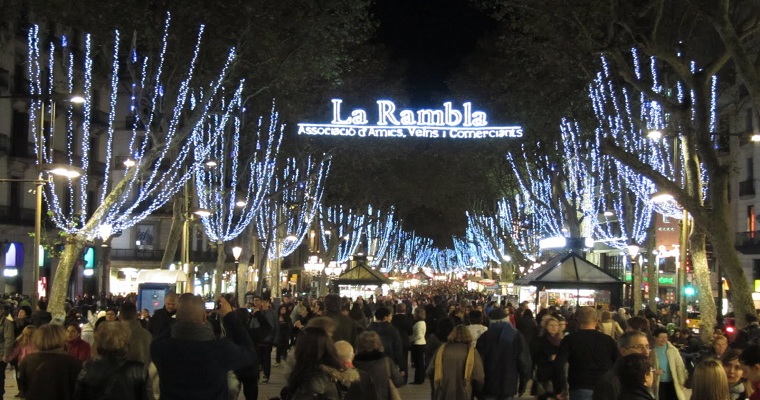 I was 200 yards into the challenge and I hadn't been approached by a prostitute.
Intrepidly I had set off down the main central stretch of La Rambla, Barcelona's premier venue for picking up a paid date. The gauntlet had been thrown down by my girlfriend and a chum who thought it would be hilarious to see if I would get propositioned. A wink or a longing stare was not sufficient, it had to be a full haggle scenario, a list of deeds and a subsequent tariff had to be discussed.
La Rambla at night is a particularly daunting place to be, intimidating with a sense of impending bag snatch. Pick pocketing is an endemic problem in Barcelona and you struggle to enjoy yourself at times knowing that you have to be on constant alert. Within the street's bustling atmosphere, vendors will approach you, offering various drugs or products—products recently purchased at the local Spar which have since falling into their hands doubled in price. My personal favourite was, 'Hashish, cocaine, Fanta limon?' Go in with the class B, go up to A and take the edge off with a citrus soft drink.
Where in the centre of La Rambla you have the small time entrepreneurs, the edges of the street are lined with hookers and pimps. A pimp restlessly paces up and down, hurrying his troupe to latch onto the passing tourists and drag them into the dimly lit alleyways and streets. To see girls turning tricks in such a blatant and overt manner was compelling and horrifying in equal measures.
Initially the challenge I had been set lay heavy on my conscience as I deemed it to be a moral conundrum. These women clearly don't want to be doing this job, it's purely for survival and I in a certain way was making light of this by knowing full well I wouldn't be taking up any of their services but openly engaging in a discussion about what was on offer and how much it would be. But I had been drinking most of the evening and this feeling of toying with emotion regrettably dissipated and I went about my task.
After a few look up and downs and some hesitation, I felt a tugging on my shirt sleeve. I turned to find a petite African lady, 'How long are you here for?' she says, 'A couple of days', 'Where are you from?' 'England.' 'How about I give you the best blowjob of your life?' So we'd fast tracked from nationality to oral.
She began to pull me towards a dark spot, an alley at the side of La Rambla. I attempted to resist but she was incredibly powerful, massive upper body strength brought on no doubt by her aggressive hand job skills. 'Come on it will be great. You'll like it, just wait and see' she was becoming particularly heavy handed by this point and I was worried whether I would have to slap her. I ended up with my arms and legs wrapped around a lamppost crying at her, 'I'm really sorry but I just don't find you attractive, please leave me be.'
After uncurling myself from the street light I gave her the following explanation, 'I'm going to meet my girlfriend at the end of this street, what would she say if I arrived with a huge contented grin upon my face and unable to pay for tea, she'd most probably think nothing of it, it would be too subtle and she'd carry on listening to New Found Glory and coming out with Anchorman quotes but there's a slight chance she may become suspicious. So I'm sorry Edwina but I'm not willing to take that gamble.' And with that she released me from her grip and we went our separate ways into the night. Sometimes you happen across an instance when you bite off more than you can chew (blow), whichever.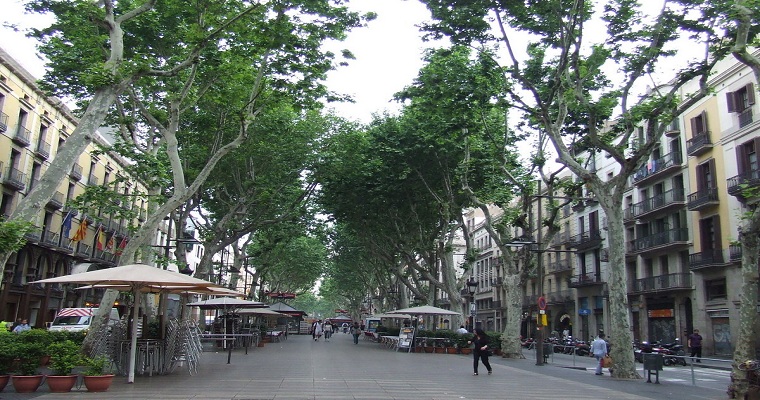 Further on into my weekend stay we returned to La Ramblas and at the foot of it sits a huge sex shop. Myself and partner in many crimes of curiosity Lucy entered to have a chuckle at the colourful and pre-dominantly rubber merchandise such as 'The Rascal' Inmate XL butt plug, a prosthetic fist and a documentary which for the first time gave a much needed insight into agricultural humping habits called 'Fuck in the Muck'.
After wading through various pornographic titles such as 'Lady Gag Gag' and 'Anal destruction 5' (I prefer the fourth myself, five was a little too broad for my taste) you arrive at a newly installed peep show. An octagon shaped arena in which people get an individual window and curtain to enjoy the show. I had the pre-conception that the two euro price would be parallel to the quality of the woman, some burnt out Jenna Jameson caricature tottering around in 6 inch Perspex heels and a suspender belt. I put in the money and the blinds began to rise. There before me was a blonde on all fours getting viciously porked by a shaven headed lothario with tracksuit bottoms round his ankles. You could tell he was a pro, nylon waistband, easy access. It was the causality of such a surreal situation that was fascinating, the bloke had a pair of aviators perched on the top of his head, when the job is done; get em back down, ooooh the glare. It was like he'd originally gone out to get some bread and milk but he'd been sexily misled at some point during the errand. 'Hey fancy a fuck?' 'I just planned to go to the Spar, but hey sure.'
We thought initially it had to be merely simulation like in those DVD's you get a voucher for in The Sun and you have to collect them from a Private shop in Doncaster and you get really annoyed that there's no actual penetration it's just a pair of twits making noises like zoo animals despite the fact the guy is just resting his willy on top of a ladies bum. However, the revolving floor cleared up any doubt, 'He's not is he? Oh, he is.'
I believed it may have been a one way mirror but he could see us as plainly as we could voyeur on him and his vulnerable partner. We desperately tried to get his attention which was tough considering the floor was revolving, he was balls deep in a ladies holy V and in all the other booths the punters were masturbating. Us just going 'wey wey, over here, hehe' wasn't going to cut it. But eventually we caught his eye by reverting to manic hand gestures. To congratulate him on his fine performance we toned the gestures down to a well done thumbs up. He gave us one back, in recognition and out of respect. He could tell we knew a good shagger when we saw one revolving.
We left the booth intrigued, shocked, and that something within us had most probably limped off and died under a cold, lubricated rock (libido, dignity). From that moment on if I approach a large geometric shape and I can hear a slapping sound coming from within, I'll think of the versatility and practicality a tracksuit waistband offers.