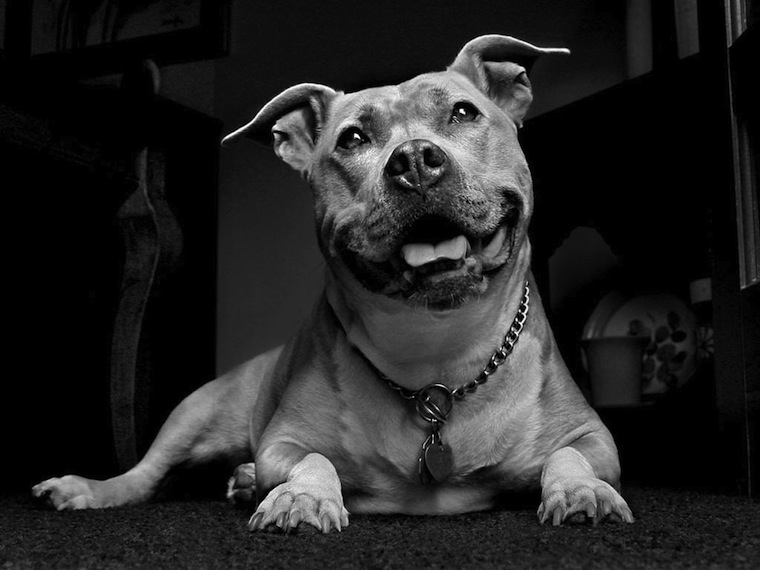 When you think of a Pit Bull you most probably think of a crazy-eyed, stocky little motherfucker that wants to bite off your balls and snap your shit up.
It's understandable. After all, the scare-mongering media portray Pit Bull Terriers to be nothing less than fierce blood-fanged killers. (If you thought of the 'pop star' by the way give yourself a slap for being a nause). I personally reckon the reality could not be further from the truth. Pit Bulls are famous in circles of knowledgeable "dog people" (that's people who have trained and worked with dogs for years – not fury folk that eat Pedigree Chum and like to hit it from the back) for the love and loyalty they provide to anyone who shows them a smidgen of kindness. Once used as soldiers and police dogs these mistrusted canines are widely acknowledged for their bravery, intelligence and fighting abilities and whilst it's true that they have attacked people, their crackhead chavy owners are the ones to blame. They should be the ones put down and labelled. Not our sharp-toothed friends.
Here's a video of some Yankee dude protesting his Dog's innocence. I've heard the Staffies and Pitbulls are renowned women and children protectors and they will only turn out to be savage cunts when left in the wrong hands (generally of other savage cunts). What's your thoughts on these dogs branded as terrors?