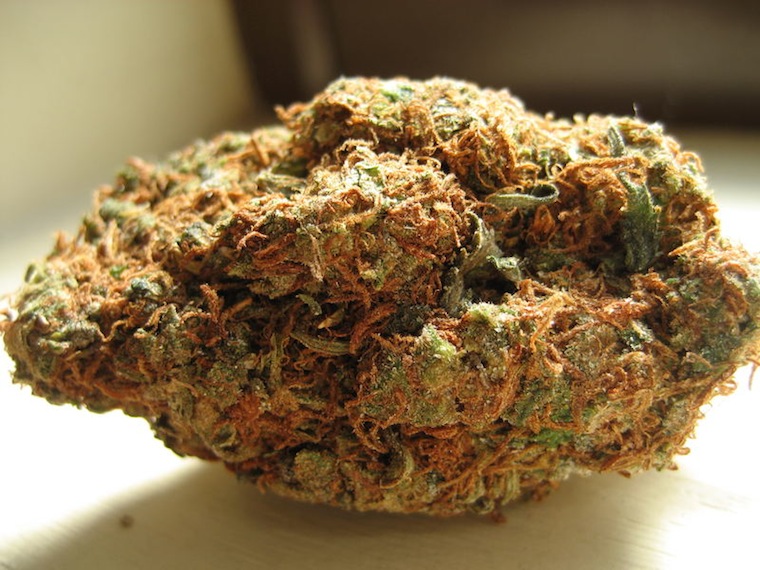 Here's the situation: You need a smoke so you call your dealer but he's running dry.  You ask around and get a number for somebody you don't usually pick up off. You get your weed, get back to your house and look at what you've got – a tiny eighth that doesn't smell that pleasant and is rock-f'ing-solid. Eurgh, welcome to the world of sprayed cannabis.
So I thought that I would try to find out what cannabis is sprayed with, why, when and where it can be contaminated and how this affects me and other consumers across the country. After all, somebody will end up inhaling it – it's not just gonna going up in smoke all by itself.
The worrying situation in the UK today is that with continued prohibition there is no way to stop adulterated cannabis reaching millions of smokers every day, and the harms caused by the added adulterants is undoubtedly infinitely more dangerous than the cannabis itself.  There have been reports of micro-beads of glass, legally purchasable online, being found in cannabis – Talk to Frank has this to say on the matter:
The Department of Health has recently received information suggesting that batches of herbal and 'skunk-type' cannabis have been contaminated with microscopic glass-like beads (or possibly ground glass). Laboratory testing has since confirmed a number of cases from different parts of the country, in which cannabis appears to contain microscopic particles of glass.
Unconfirmed reports suggest that smoking the contaminated cannabis has been linked with complaints of sore mouth, mouth ulcers, chesty persistent coughs, and a tight chest lasting for a few days.
Government advice already makes clear that cannabis is a substance harmful to health. The risk of glass contamination adds an additional layer of risk of harm. Whilst the exact potential health harm from this contamination is not yet fully determined, inhaling hot glass into the mouth, throat, or into the lungs should clearly be avoided.
Whilst the Government's advice that cannabis is a substance "harmful to health" is complete crap, the rest of the excerpt seems like genuine stuff – a rare feat for Frank, who usually falls short before real evidence, recycling propaganda and misinformation under guise of a respectable health-concerned service. But enough about Frank, there is another important issue at hand.
I found an excellent resource at www.gritweed.co.uk that contains lots of information about sprayed cannabis.  On the site it lists four types of 'grit weed':
- Large Glass Particle Contamination
- Industrial Etchant Spray Contamination
- Sugar or Sand Contamination
- Micro Contaminants (stealth grit)
I shudder to think what the long-term effects of inhaling this sort of smoke would be on a person.  It is a sad  situation that cannabis, one of the most benevolent herbs on the planet, with so many uses medically, spiritually and recreationally is being harmed in this way, like finding a dirty needle in a box of cereal  you were until that moment planning to eat from.  But an even sadder fact is that even if you know your weed is sprayed, unlike the needle in the cereal metaphor, chances are you're still going to smoke it.