NEWS
Someone's Built A Huge Drugs Catapult On The US-Mexico Border

US border patrol agents recently discovered a medieval-style catapult mounted on the border wall with Mexico, designed to launch huge bundles of drugs into the US. How innovative.
Images VIA
The transportation device was discovered last week southeast of Tuscon when the agents clocked a group of men scattering it when they approached. As they got nearer they discovered 21kg of cannabis which was yet to be launched.
Unfortunately for the dealers, the catapult was taken down on the Mexican side and no arrests have been made.
I just want to know how they managed to get away with it in the first place. Perhaps they had someone on the inside to help cover while it was in construction.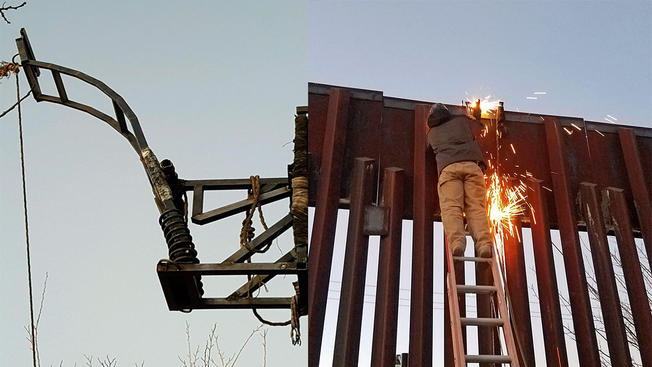 In a way you could see this as some sort of illegal protest against Donald Trump's border wall. At the moment around 650 miles of the 1,100-mile (1,770km) border is covered by some sort of wall or fence.
Donald Trump has committed himself to building more walls, but drug smugglers have in recent years turned to increasingly creative means of getting their product over, including drones, car ramps, and air cannons. Never underestimate the power of people's need for drugs.
Maybe they won't have to worry too much in the future, as Trump recently said that the wall is actually going to be more like a fence.