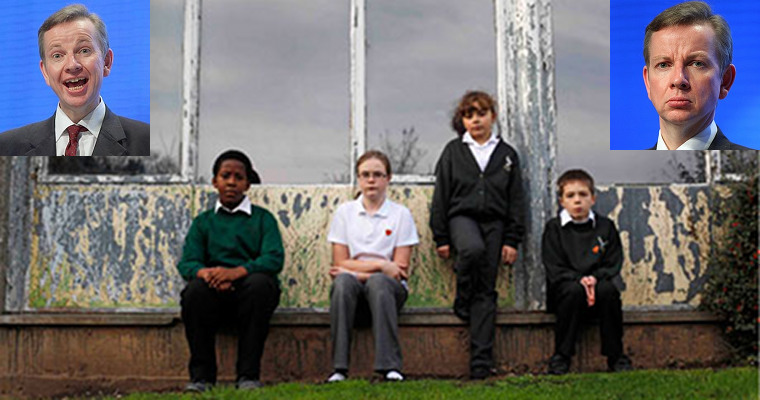 Having already covered the reasons behind the current government cuts, the proposals for NHS reform and how parts of the police service are being sold to the highest bidder, it's now time to face the corporate commissioned muzak of plans to turn most of the country's schools into privately-owned, independent academies eventually run for profit.
Forgive this particular writer for lowering the mood but having had to unearth so many skull crushingly depressing examples of where the current government is taking this country, thoughts of a quick and easy way out are starting to bubble to the surface and, bereft of the financial clout to bugger off to a tax haven or live in the unaffected bubble of the upper social class, the finishing of each article now coincides with a self-imposed "asphixy-wank o'clock" with ever-diminishing portions of lemon on hand to make the necessary wake-up call. Having to google Michael Gove's sad Pob-like clown face for the past half hour has lessend the chances of that substantially, but first let's take a look at the facts…
Another instance of creeping privatisation funded by public money under the guise of reducing bureaucracy and the good old "creating greater choice", the government – fronted by Michael Gove as education secretary – is encouraging, and in some instances forcing, schools to break their ties with local authorities and become academies or free schools accountable only to Gove himself. Competition has been assumed to lead to better standards in education since 1988 – the golden days of neo-liberal thinking – but in truth it simply diverts funds from one school to another, meaning the academies and free schools will gain where already underfunded state schools will miss out.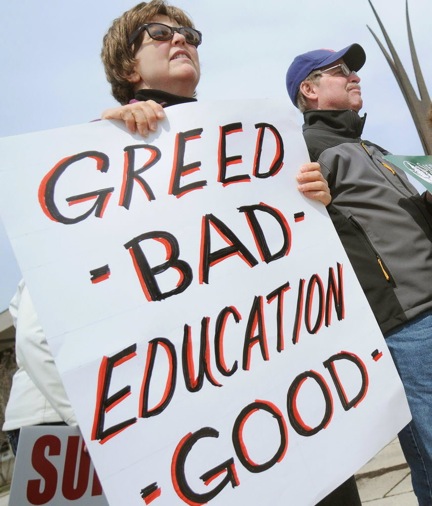 So what's the plan?
The Academies Act 2010 was one of the first pieces of legislation to be passed once the Coalition came to power but it is only in recent months that unions and journalists have begun to pick up on the pace of the reforms and how involved the government is becoming in making them a reality. Since the act became law, the number of academies has increased from 200 to 1,529 in February of this year.
To clear up any confusion, of which we had much before this piece, academies – first introduced by the Labour government – are schools that have broken away from their local authority and are able to set their own rules in terms of curriculum, finances, teacher's pay and conditions etc while being funded by the government. All within Whitehall-approved reason of course.
A free school on the other hand is essentially an academy but one set up by groups of parents, teachers, charities, trusts, religious or voluntary groups with the day-to-day running often supplied by an "education provider", with government officials publicly stating that they have "no principled objection" to profit-making companies taking over state schools and predicted that they would probably do so eventually anyway. Which, in fact, they already are, as the Swedish company IES UK was awarded a £21 million, ten year contract in January to manage a free school in Suffolk to be known as IES Breckland.
Directly importing the Swedish model is testament to what many believe to be the agenda all along – to mimic Sweden's policy of free schools – yet in Sweden itself this scheme is seen to be failing. A report by pro-business thinktank SNS, published last September, revealed that free schools in Sweden had, in fact produced lower grades, increased segregation and sent Sweden plummeting down the list for international education standards while many free schools have cut basic services such as a library, student counselling and a school nurse, allowing the owners to take the surplus funding and pass it on to investors.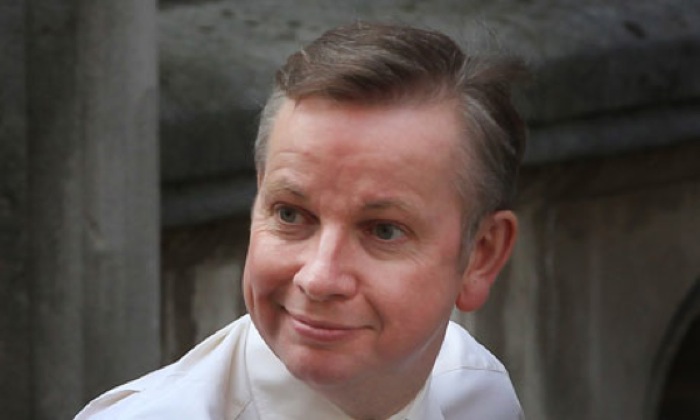 Gove initially claimed that schools will not become for-profit businesses, with all the dangers of cost-cutting and profit margins that that entails, but he recently made a rather public slip when giving evidence to the Leveson inquiry, imparting that he had an "open mind" when it comes to schools being run for profit, yet the vast majority of companies had already taken heed.
Wey Education, already on the list to bid for contracts, stated in a stock exchange newswire in December that the company "is responding to the English market opportunity brought about by the transfer of state run schools to independent charitable entities and the deconstruction of the education function within local authorities" going on to state that it represents "a clear opportunity to make a substantial return to investors and improve education in the UK."
Supposedly virtuous motives of improving educational standards aside, consensus among the opposition to these reforms and the businesses set to gain is that this first wave of measures is intended to soften up the schools system to provide more fertile ground for when the businesses move in. Indeed, Wey Industries had already stated that the 'model' they were developing "ensures that a surplus can be generated annually based on state per pupil funding", while Toby Young – one of the leading proponents of free schools – admitted that it would be "virtually impossible" for groups of parents to found their own educational establishment, saying that it's "much more about encouraging multi-academy sponsors setting up schools."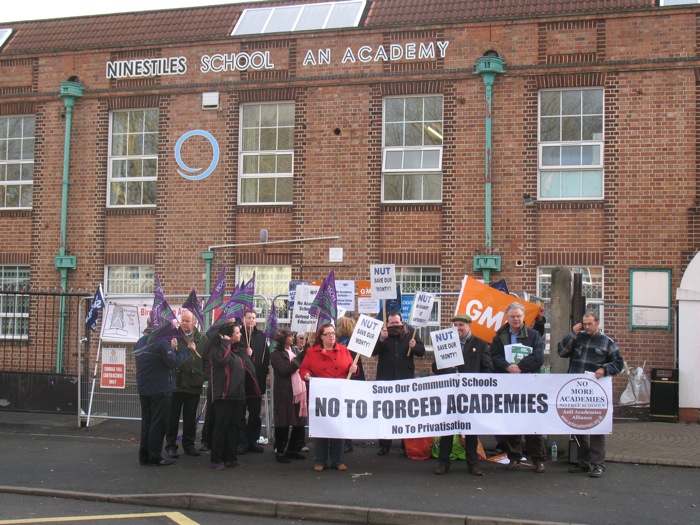 But what is the real problem here? We could blabber on blithely all day about how private firms are taking over schools, about how some schools are being forced by the education secretary to become academies, but without some form of analysis we're simply ringing an empty bell, akin to street corner prophets on day release or that goat that shouts like a man. Equal parts amusing and annoying, ultimately pointless. So allow us to elucidate.