NEWS
School Teacher Caught With £5million Of Coke, Heroin And Guns In Her Home

A middle school teacher over in the US has been arrested in a $6,200,000 (about £5,000,000) drugs bust.
Images VIA
I understand that teachers wages are not all that, but this is one of the most extreme cases of moonlighting I've ever heard of.
According to the police, the teacher, Karla Alvarex, 28, and her accomplice Monica Pascual Brito, 24, were arrested at their homes in Georgia. Officers found a whopping 61kg of cocaine and 1kg of heroin, as well as two semi-automatic assault rifles.
Lt. Scott Ware, of the Hall County Sheriff's Office, said Alvarez and Brito are now facing charges of trafficking and possession with the intent to distribute cocaine and heroin and two counts of possession of a firearm during the commission of a felony.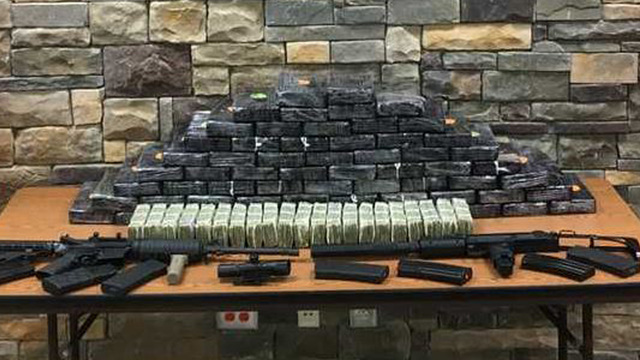 Alvarez was working at the Chestatee Middle School Academy since 2015, but something tells me she's not going to be allowed to step foot into a school ever again. Hall County schools spokesman Gordon Higgins said:
The Hall County School District is conducting an internal investigation and is working in cooperation with the Hall County Sheriff's Office.

The administration of Chestatee Middle is in the process of notifying faculty, staff and parents through our internal messaging systems.
Looks like Alvarez is going to go down in history as the most badass teacher to ever have worked at the school. How someone managed to live such an extreme double life is beyond me. It's on par with this university lecturer who worked as a porn star on the side.