TV
Were Ren And Stimpy Gay? This Video Seems To Think They Were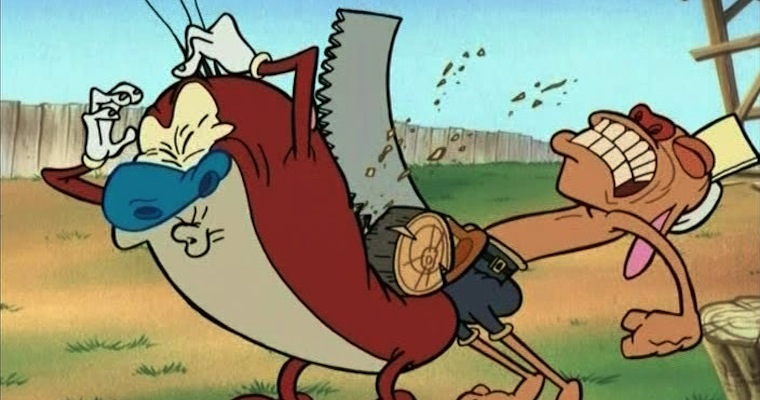 This is one of those things that I can't quite tell if it's real or not. I mean, it looks pretty legit. It's most definitely Ren and Stimpy, but whether it ever made it onto our TV sets I'm not quite sure. I was never really into Ren and Stimpy, I think it was just before my time, but I know a lot of stoners who can't get enough of it, so maybe it was really weird and crazy and scenes like this one did actually make it onto the TV show.
The scene is of Ren trying to saw a piece of wood that's laying on Stimpy's back. I'm not really too sure why the wood's laying on Stimpy's back because that's probably the most impractical place to place a piece of wood when you're trying to saw it. The whole set up with the saw is even more impractical as it's basically attached to a belt that Ren's wearing, which makes it look like his penis. So Ren's got this saw and he's sawing away on this piece of wood while Stimpy's huffing and puffing (kinda like he's in some kinda of pain), and Ren's thrusting back and forth really giving this piece of wood some umph, which basically looks like Ren's bumming Stimpy.
☛ Check This Out Next: Cannabis in Cartoons
The action goes on for a while before the wood's finally broken and for some weird reason Ren's saw goes all floppy. To back up the case of this being a re-creation of a sex scene, Ren then walks off and casually sparks up an 'after shag fag' before looking over at Stimpy,= who's got a load of mess on his back from the wood, which is just like where girls get tramp stamps and, you know, guys leave their mark. Then Stimpy stares into Ren's eyes and asks if he can have a cuddle.I mean, this is so absolutely ridiculous there's just no way that this is NOT a re-creation of a sex scene.
☛ Read Next: The Stoner's Guide To Surviving a Zombie Apocalypse
Check it out for yourselves and let us know if we're just tripping or if you agree and this most definitely Ren pretending to bum Stimpy. Check it:
☛ Watch Next: X-Men Title Sequence In Stop Motion