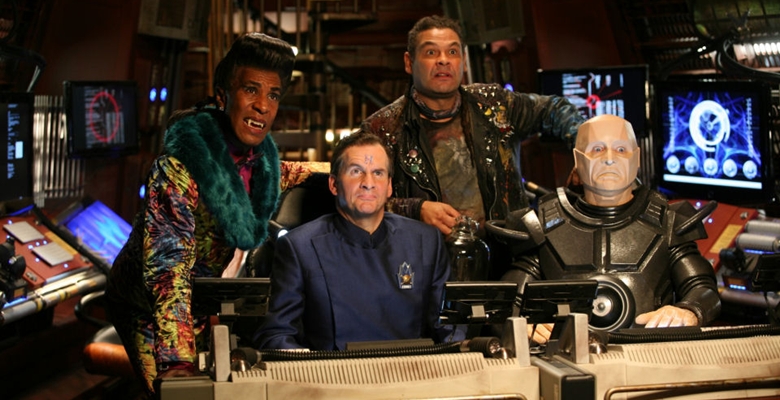 So everyone's favourite "there's nothing else good on" channel Dave have released the trailer for Red Dwarf's tenth series which will be shown later this year. The cast are now beginning to look pretty middle-aged (which is what they are) and team up for eight more episodes of the sci-fi comedy.
This may suffer from the Men Behaving Badly-syndrome of it being quite funny to see guys take the mickey out of each other and be slobbish in their twenties but now looks a little past it. Even Kryten – the masked up robot – looks old. Cat looks like a Jamaican granny.
In the intervening years since the show has been on indefinite hiatus, Craig Charles (Lister) has been involved in than his fair share of tabloid scrapes, Chris Barrie (Rimmer)  became Lara Croft's butler, Danny John-Jules (The Cat) became a kids TV host and Robert Llewellyn (Kryten) drove around Youtube in a car.
Maybe this could work and they could just incorporate the age into the gags – but wouldn't this mean jokes about erectile dysfunction and grey hairs? Ironically in the sixth series, there was a storyline where they met their elder selves replete with beer bellies and bald patches. Now this is becoming a reality.
Will the classic characters and writing which have seen the series keep its fans since it debuted in 1988 pull it through or will this be their final voyage? We'll have to wait until autumn to find out.
Meanwhile check out our review of an also ropey looking Inbetweeners USA trailer here.