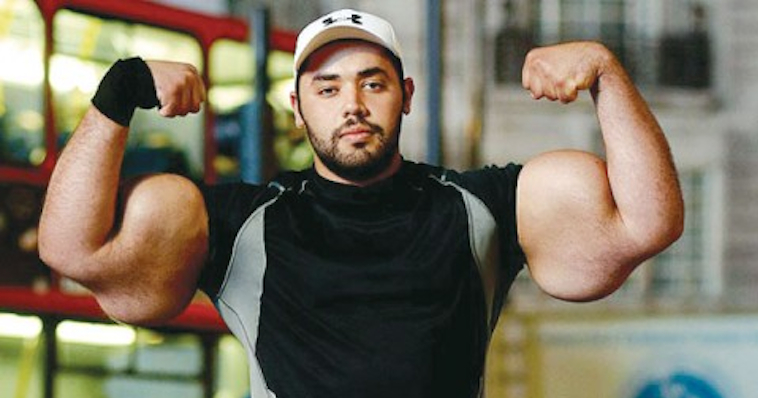 Popeye was an OK cartoon I guess. I don't really remember that much about it except it seemd like in every episode that that big bearded guy who was Popeye's enemy – who I remember being called Brutus but might actually have been called Bluto – would kidnap Olive Oil and then Popeye would eat some spinach and his biceps would grow massive and then he would beat up Brutus/Bluto and smooch Olive Oil for a bit. I guess it was supposed to make kids want to eat spinach but I never wanted to have big biceps and Popeye was kind lame anyway, I preferred stuff like Pirates of Dark Water and Jayce and The Wheeled Warriors anyway.
But one guy who didn't give up on his dream was Mo Ismail AKA Big Mo, who has been working on his biceps for ten years to try and look like his hero and guess what? Now he does, as you can probably see in the picture above. He has 31 inch biceps – which are officially the biggest in the world according to the Guiness Book of Records –  which is the equivalent of a grown man's wasit. That's big FFS. He can lift 500 pounds which is pretty amazing, but then on the other hand he also looks like a fucking freakazoid right? Why would you waste ten years of your life trying to look like an absolute freak?
Most people you stop and stare at in the street – even though you should know better, but most of the time you can't help it – actually can't do anything about it but this guy has worked for TEN WHOLE YEARS to look like this. I mean being able to life 500 pounds is kind of cool but not when you have to walk around like that? I mean what happens in the winter, can he even wear a coat or a jumper?
The irony is he doesn't even like spinach. Instead he chooses/is required to eat  3lbs of chicken, 1lbs of steak or fish and four cups of almonds washed down with two gallons of water and three litres of protein shakes every day. Yuck, I mean I really like meat and fish but the almonds. Gross, guy. Big Mo also owns two petrol stations and in his spare time enjoys pumping gas for his customers. I bet people love it when they go to get their gas and this fucking freak comes out to pump it. I wouldn't be going back there in a hurry. How the hell do they even stay in business? If I was him I would just stick tot he gym and not worry about the petrol station. Geez, talk about bad management.
Big Mo began his quest at the age of 14 when he first joined the gym to lose some weight, but when everyone started complimenting him on his biceps he decided to embark on a quest to develop the biggest biceps in the world. To do this, at the age of 19 he moved his whole family from his native Egypt to the USA because they have better gym equipment over there. That's dedication. I gotta give the guy props though – he achieved his dreams and how many of us can say that? It's just a shame his dream means that everyone in the world is gonna think he's a complete weirdo/freak. Here's some more pictures of his biceps to laugh at/get weirded out by: