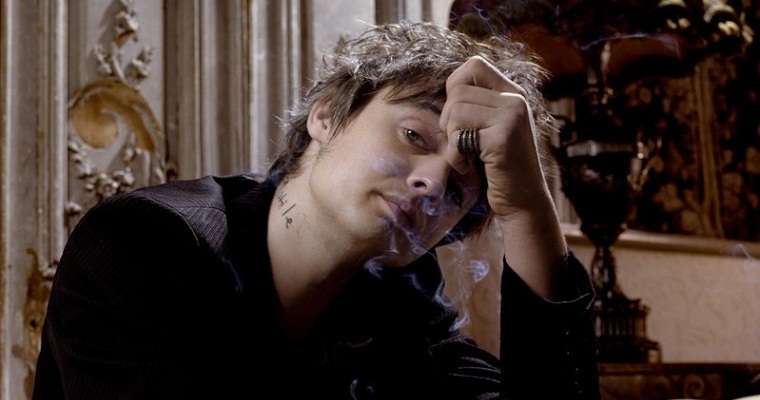 Songwriter and opiate aficionado Pete Doherty has been turfed out of a Thai rehab clinic for 'disruptive behaviour' it was announced today. How do you go about disrupting other smack heads? Did he smuggle in wraps of brown powder and watch the other patients desperately heating up spoons only to giggle and tell them it's actually brown sugar? Maybe he exchanged the methadone doses for Calpol? He probably just found ways of mentioning 'Crack' or 'Smack' in every sentence, 'Oh that can of COKE was CRACKing! I would SMACK someone for another one. Are you sure I can't NEEDLE another one out of you? Remember when we took HEROIN?' Something like that.
Pete had been treated for his addiction using the method of 'elephant trekking' (riding around on elephants all day, we presume). How do they expect people to stop taking heroin or cocaine when all the rehab activities sound like a blast? If they had paintballing and go-karting I wouldn't be writing this article, I'd be frantically snorting lines of Charlie bigger than my cat while simultaneously wrapping a belt around my arm. No wonder this place apparently has a 96% 'treatment completion rate' (which Doherty just shit all over), who cares about heroin when you could be riding around on elephants catching some rays in the jungle?
I found this out like most people probably did, through twitter, and interestingly enough it turns out that Pete does still have a surprising number of active fans. I assumed the fans of music like this died out with Franz Ferdinand. Not the Scottish band who did that matinee song, the Austrian Archduke whose death brought about the start of WW1. Yeah I'm saying it's dated, big whup.
I screen shotted a whole bunch (there were a lot more than this) of people who thought Pete was an 'ULTIMATE LAD' for leaving rehab.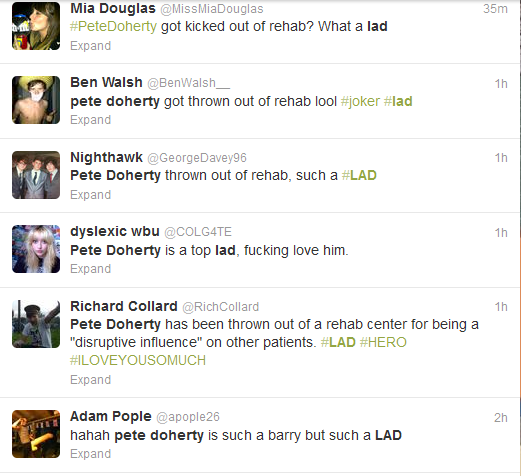 After one tweet it's like, yeah ok that's slightly amusing, but after the tenth it's like, alright at the end of the day he is a heroin addict and it doesn't make him a lad for being kicked out it just makes him a bit of a useless twat. Not that I'm saying drugs aren't cool, they still are. But come on now, he didn't board the 'Banter Bus' to Thailand on his gap year, he was probably on the brink of despair and tired of his veins collapsing and going to the needle exchange every day.
Pete has apparently come back to London now, and has been advised from the Thai rehab centre he he was ejected from to seek further treatment in the UK. Yeah, seek treatment through a syringe AMIRITE? Get rehabilitated with some tasty brown powder YEAH?! BANTER! What a LAD.