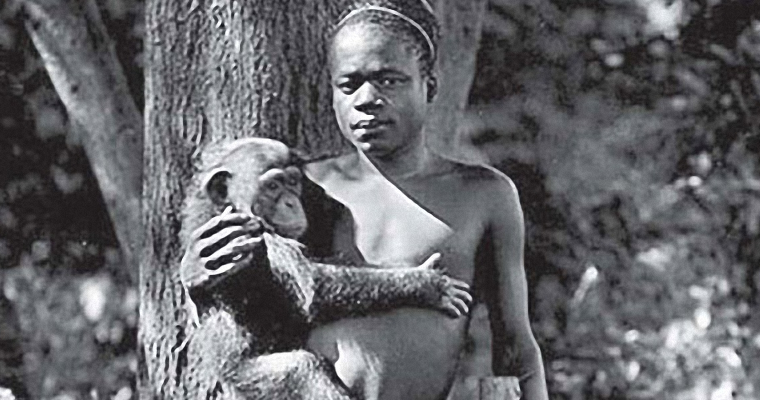 Back in the bad old days people weren't quite so racially aware as they are today (in the most part), and most people didn't even get the National Geographic channel. So anyone of a non-western persuasion wasn't necessarily treated with much/any respect. Thank the Lordy we've moved on (in the most part). Here is a tale of sadness about an African tribesman called Ota Benga who was given a shit life by whitey.
In the late 1800′s the Belgian Force Publique were busying themselves with thieving from and murdering the tribes of the Belgian Congo. After all the Belgians were white, so the African's shit should have been their shit in the first place right?? The hero of this story -  Ota Benga – had been out hunting, and managed to kill an elephant, he returned to his village, all chuffed about how hard he was. But what he found when he arrived was not the hero's welcome he had expected. His wife and children had been murdered and mutilated along with the rest of his people. He himself was sold in to slavery. This is him with some of his buddies (second from the left).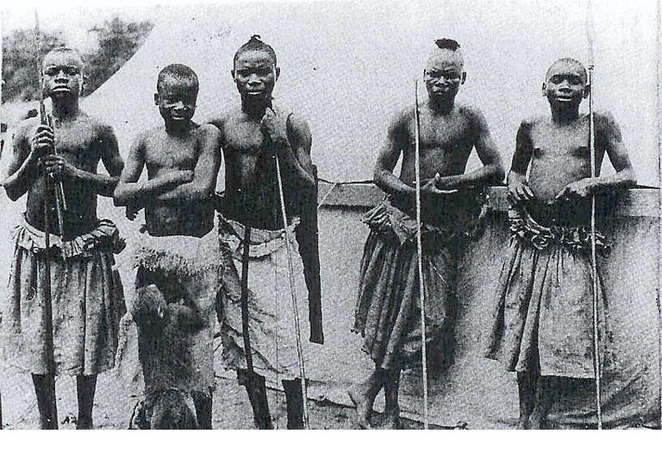 In 1904 an explorer named Samuel Verner who was collecting "specimens" (i.e. humans), found Ota, this 23 year old, 4′ 11″ man, in the slave market and was impressed by his pointed, whittled down teeth. He bought him for the princely sum of some salt and cloth and took him back to America to be shown in the Louisiana Purchase Exposition. Ota had little choice, and little to stay in Africa for so went with him.
After the fair Verner took him back to his homeland where he quickly remarried, this time his wife died of a snake bite. He was not a lucky fella. People of other tribes now distrusted him due to his connection with the white guys and so he opted to go back to America with Verner. Once again the poor chap didn't really have much of a choice, rejected by his peers and soon to be ridiculed by Westerners.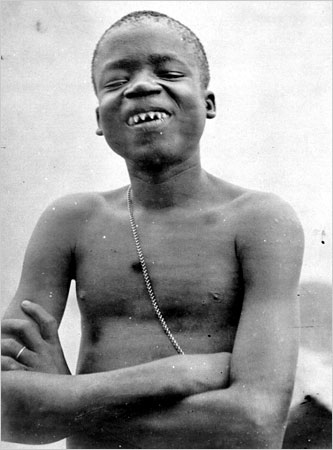 Verner was low on dosh and ended up giving Ota to the Bronx Zoo where he was allowed to roam around free and soon became a massive draw to the public. On one day alone it's reported that 40,000 people came through the gates to oggle and harass him. He had a full time guard to make sure people didn't pull him to bits with their idiotic curiosity, but was eventually kept full time in the monkey house where he befriended the chimps and the orangutans. It seems amazing to our modern brains that keeping a human in a cage was ever thought of as OK?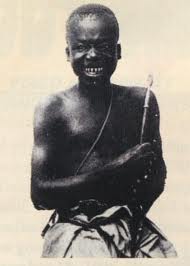 Darwin's evolutionary theory was misapplied back then. People thought there were different levels of evolution in humans, the whites obviously being the most evolved because we had invented petticoats, cricket and table manners.  Pygmies were considered little more than apes. Eventually, partly thanks to the complaints of black ministers, he was given free reign to wander the zoo again but became less and less impressed with idiot gawpers poking him in the ribs, tripping him over and laughing at everything he did. Fair enough.
One day he kicked off big time because the soda salesman wouldn't give him a soda, it took three guards to get him back to his cage, apparently he fought like a "tiger". Later he made a bow and arrow and opened fire, injuring the gawkers he hated so much. After that escapade it was time for him to leave the zoo, he had become more trouble than he was worth. Take the power back my friend.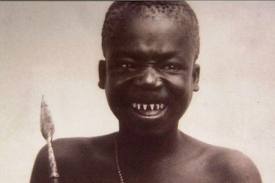 He ended up at an orphanage for a while where he learned English, then, in 1910 he was taken to live in a black community in Lynchburg, VA. There he was accepted by the black families and popular with the little boys who he taught bush craft and helped collect honey. Apparently he thought it was hysterical anytime any of them got stung. I bet it was. He had his teeth capped and got some western style clothes in an effort to blend in but became progressively more and more homesick. He realised that he could never afford the boat fare home and this troubled him.
One lonely day in 1916 he lit a ceremonial fire, took the caps off of his teeth and shot himself in the heart with a stolen gun. Whitey has a lot to answer for. Ota Benga I salute you.
This is a book about him written by Verner's grandson: