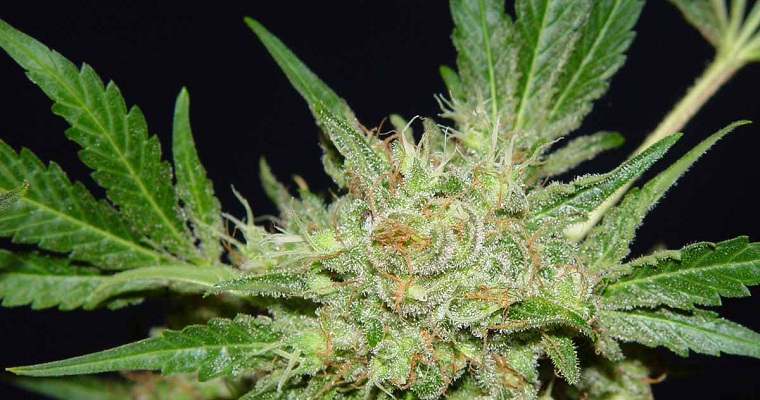 From a market of seeds and strains which is expanding by the day, there are lots of weird and wonderful names emerging onto the scene. With expert growers all over the world cross-breeding up to four strains at a time to create super-hybrids, then slapping a fancy new brand name on the packet, how can you, the customer, be sure you're opting for your optimum high? More importantly in these tough times, high unemployment and product demand has caused a new wave of closet amateurs. Most of them have the best of intentions, but unfortunately due to inexperience and being on a learning curve, the resulting end product is not saleable; often not even safe to smoke. Sound far fetched? I haven't even gotten started yet. Stick around. You'll thank me for this.
We'll start with the good bit – the two crucial distinctions – Sativa and Indica.
Sativa grows well in Asia, the Americas and Africa, and though not native to these parts, is now considered a landrace. The leaves and foliage are medium green though they can go purple. Sativas grow tall and spindly, and take longer to complete their flowering cycle than Indica. Sativas produce whispy buds which are not densely packed like Indica buds. The longer flowering period and the size of Sativa put lots of growers off them, and the whispy buds don't fill out and retain little weight once they're dry.
Breeders cross Sativa with other strains, potentially increasing yields yet making it possible to grow Sativa genetics in limited environments.
Sativa produces smaller crystals than Indica. The Sativa high is light, twinkly and uplifting. It is excellent as a mood elevator.  Flavours range from spicy and fruity to sweet and nutty. Haze, Skunk # 1 and Pineapple Express have predominantly Sativa genetics.
Sativas have thin leaves with individual blades which are serrated, like this :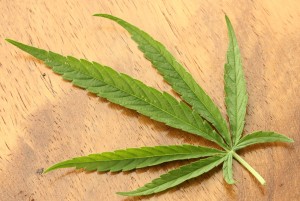 Indica is native to India and Pakistan, and plants grow considerably shorter in comparison to Sativa. Indica leaves are stubbier and darker green so they can absorb more chlorophyll from the abundant, scorching sunshine. Some strains can turn purple or blue. The solid buds are densely packed and generally produce heartier yields than Sativa.
Indica plants produce larger crystals, delivering a high which is heady, heavy and causes couch-lock. Indica is best enjoyed at the end of the day, or if you have absolutely nothing to do. Flavours range from spicy, sweet, floral and musky. Indica is best used to treat chronic pain and insomnia. G13, Hashplant and Australian Blue all have predominant Indica genetics.
Indica have darker green foliage and stubby leaves with wider blades that are  serrated, like this :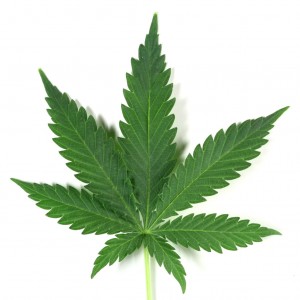 Kush deserves a mention as it's a subset of Indica. Kush is native to Afghanistan, where it grows on or around the mountains. Kush, also known as AK (Afghan Kush) is used for hash production, which is big business in that part of the world, sustaining whole communities of people. Expert growers cross breed Afghan Kush with other strains. AK47 is a well known strain grown for its high yields of full, fluffy compacted buds. Its genetics are 65% Sativa and 35% Indica, delivering a pleasant, mellow middle high.
It's useful to remember these like this:
Sativa – smoke for breakfast
Kush – smoke for lunch
Indica – smoke for dinner
Next up, making sure that weed is the good shit…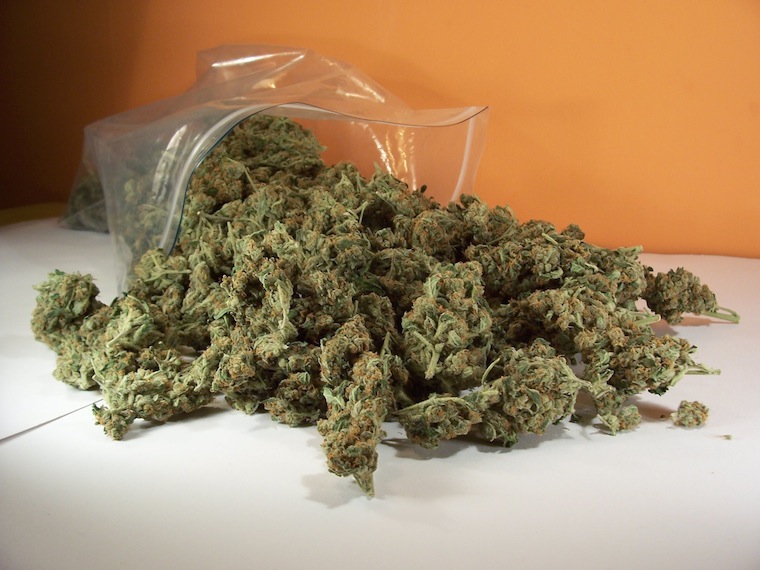 When you've seen and smoked plenty of variety and you know what you're looking for it becomes second nature to notice these distinctions, and this way you'll always  make sure you find the right dope to suit your needs. This is useful stuff to know. For example if you had a family thing coming up but didn't want red-eye at the dinner table or your Aunt Nora commenting on your extremely healthy appetite, a Sativa strain or a nice hash would probably make the experience more pleasurable. An Indica could leave you needing a lie down if you smoke it at the wrong time, in the wrong circumstances. Not respecting the strength of a potent Indica is a mistake many smokers make, especially those who are inexperienced or uneducated.
Now, here's the really important stuff, the bit all this has been leading up to. It's my mission here to not only help you identify good dope, but also to help you spot shit dope before you part with your hard-earned moolah. Getting a wet bit won't seem so bad after you read this.
Important things to notice are smell (but not the way you think), appearance, weight and colour. Here are more details, and make sure you read on to find out how to spot diseased bud. Smoking it isn't good for you.
CRYSTALS – are there plenty still intact? Your dope should be glistening with a fine mist of them. If there are few or none the weed hasn't been taken care of, and damage has caused them to fall off.
Also watch out for weed that has been sprayed with miniscule shards of glass or grit. Some arseholes do this to create the illusion of more resin and increase weight.
SMELL – On inspection, it should smell natural. Fruity, musky, spicy or floral depends on the strain, but what your weed should NOT smell like is muddy or too earthy. If this comes through at all it's likely the weed is dirty. Lots more detail on dirty weed coming up.
COLOUR – I know I said Indica is darker than Sativa, but ideally any healthy, dry bud should be a much lighter green than anything living. It should be pale green, but not too pale that it's sickly, and certainly not yellow. Yellow bud could be sick or scorched. Yellow leaves shouldn't concern you - if the bud appears healthy.
WEIGHT – If your weed arrives wet, it shouldn't have been sold. Wet weed sweats in clumps when left inside baggies. Keen to get it out quickly for maximum profit, it's the customer who always loses out. The bud will continue to dry and you're left with about a fifth of what you paid for. It's also a nightmare to skin up with and delivers virtually no high. Wet is not to be confused with sticky weed. Sticky weed is still hard to skin up but not necessarily still wet.
DIRTY WEED – As I mentioned earlier, weed that smells muddy or too earthy is probably 'dirty' – this means the chemical nutrients haven't been properly flushed out of the plant before it was harvested. The proof, as I say, is certainly always in the puff, and in my experience dirty weed tastes exactly that – dirty. There's a chemically taste that isn't natural or pleasant, and you'll probably cough and feel like there's a nasty film in your throat which you want to hock up. Your tongue and mouth might burn and get swollen in places, and I've even heard of people getting migraines and being sick from smoking dirty weed. It does you absolutely no favours and because the plant wasn't ready to be harvested safely, it probably won't get you high either. You're inhaling toxic. Dirty weed is becoming more common as more turn to growing their own. Buds that are still full up of chemicals will look shrivelled and singed, and are likely to be an unhealthy shade of dark green. The smell test is quite reliable for finding dirty weed, and you won't look stupid doing it before you buy. You're supposed to smell your bud. It's ok to turn bud down – there's no harm in holding out for a nice bit. It's your cash, and your smoke. Medicinal users especially owe it to their health to smoke or ingest only the cleanest weed.
When  being smoked, if the weed crackles as it burns it can indicate fertilisers are still in present in the bud. The odd crackle can be a bit of stalk, a tiny, undeveloped seed, maybe a bit of moisture, and that's ok.  But if the joint crackles on almost every toke, you could have dirty weed. Clean weed will burn smoothly.
Diseased Bud is BAD for you. Look out for…
MOULD – In summer growing outside and hotter weather makes plants with dense buds more susceptible to mould, or bud rot. You can spot bud rot in dry bud because the bud will be discoloured and fall away from the stalk, crumbling away in your fingers. It'll be a sickly green or yellow or even grey or brown in colour. Selling mouldy weed is really cheeky but some do try and get away with punting the odd bit. Mould destroys bud and the spores are hazardous to your health and mental state if smoked. Smoking mouldy weed can cause stomach upsets, sickness, migraines and mood swings. It also quickly infects any bud around it.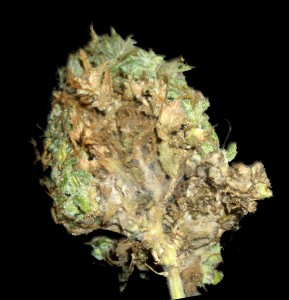 This case of mould is very bad. Mould sets in when the plant is still living and continues to attack it after harvest. Mould also infects harvested buds during drying. The buds are vulnerable at this time, especially in the warmer weather.
MILDEW – Smoking weed with mildew on it is also bad for you, because again you're inhaling all those nasty spores which do your respiratory no favours. Mildew looks like a white layer of mist covering foliage, often denser on leaves.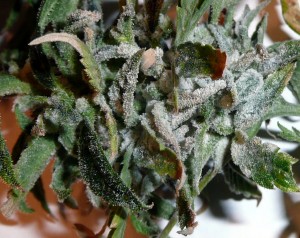 So there it is, your Sick Chirpse guide to buying awesome weed every time. I really hope you guys will all find this guide helpful for choosing the best and the cleanest bud! The more people who turn dirty weed down, refusing to pay ridiculous prices for an unsafe, second-rate product, will encourage those people responsible for the shoddy merchandise to take a bit more care in what they do before taking your money. Bad growers should make way for someone who does know what they're doing, and doesn't want to rip people off selling poisonous bud. Don't buy bud just because it's bud. Understanding quality and cleanliness is the key to finding yourself the best medicine, and helps you to be a bit more discerning when choosing from what can be an uncertain and unreliable market.
If you enjoy smoking the 'erb then make sure you check our article about how legalising cannabis would save our economy.