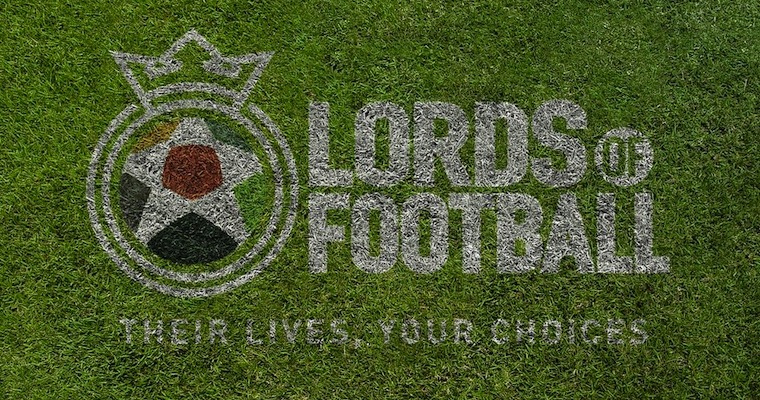 As we all know the new football season is beginning this month, and we cannot fucking wait. Along with this, though, will be the inevitable release of various football games on various platforms; but, like me, you might a bit bored of Fifa re-masking the same game year after year; you might think Pro-Evolution has turned a bit shit of recent; and you might find Football Manager all a bit too technical these days. Well, if you do agree with any of these statements, maybe you should take a look at Geniaware's Lords Of Football, for a bit of a different football-gaming experience.
The premise is pretty straight forward; you take a god-like role over your team and it's players, looking after their interests both on and off the pitch. You could say it's kind of like The Sims, but with a hint of Leisure Suit Larry, crossed with Football Manager and Fifa. Here is how the official website puts it -
As you get to know your world and all of your footballers living in it, you'll be able to control their lives and ultimately the fate of your team. As soon as you start the game there are many activities to get absorbed in, like defining your team, setting their training exercises , getting to know their mood and behaviour. The world in which you enter is brimming full of life, from the town centre to the clubs training complex . Much like the real world, you'll have characters wandering around who are getting on with their lives, but can also be a source of distraction to your new football team. The world will evolve and develop as your team begins to make a name for themselves and becomes more successful, Watch how the town gets behind you as you become a source of pride in their eyes, just like the real game.

You'll have to monitor their training by day, but when night falls its time to have fun, but don't let things get out of hand or you can find your footballers in all sorts of problems before a match. There are numerous pitfalls waiting to weaken your team from misdemeanour's, infractions, injuries, vices that may develop into bad habits, unpredictable weather, distractions and over inflated egos running wild! As each of your footballers develop their own characteristics over time, you will be challenged in getting the best out of them. You'll be eased into it to begin with, but it'll get harder the more you play.

Night time activities are a big part of Lords of Football's game-play, and we'll be focusing on this at a later stage as it warrants a lot of description! There are numerous venues to take your footballers to, some of which will make them happy, but as each one develops a different personality, you'll have to discover which type of events work best for them. Some may prefer the casino to the pub, but there's a fine balance between keeping them happy and growing an addiction. Vices will eventually come into play and there are several ways to deal with them, but continual punishments alone won't help quell the excesses of that footballer. You'll have to find ways of controlling their behaviour through alternative means, all discoverable throughout your world in various activities. It's necessary to keep an eye on this because this can have a devastating effect on your match performance and on the skills of the footballers that you've worked so hard to grow through training.
This could turn out to be pretty sweet. I mean, don't get me wrong, I do love a good 4-week consecutive session on Fifa at the start of the season, playing until my eyes bleed; but there is a distinct lack of Kung-Fu kicking fans in the face, gambling all your earnings away like Jeremy Kyle, and flicking off WAGS beans in fancy restaurants. Let's face it, anyone who buys this game will not take it seriously; everyone will spend their hours creeping on girls and buying drugs, and everyone will finish the game in the Blue Square with a team of Joey Bartons, Marlon Kings, and Paul Gascoignes.
The lifestyle take on the footballing world has never been seen before in games; and as this features a fully-explorable 3D world and face to face dialogue with players, Lords Of Football has stacked up a heap of interest with over 100,000 Facebook fans eagerly awaiting the release. Geniware is still yet to set a release date for us, but it is rumoured to be released this year. If you do fancy a copy, you're probably in luck, as Lords Of Football will be released on both next-gen consoles X-Box 360 and PlayStation 3, along with a PC release.