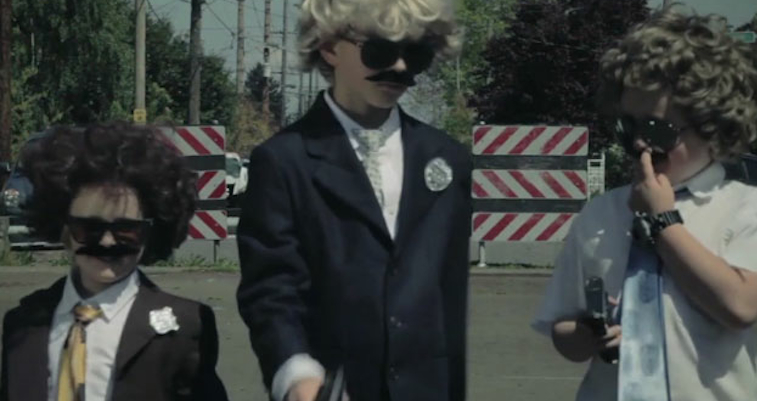 Like the entirety of the internet, and probably most of real life too, Sick Chirpse was saddened by the recent death of Beastie Boy Adam Yauch, better known to his fans as MCA. Unfortunately the best we could come up with in the form of a tribute was a hastily written column about this time that I went to a Beastie Boys concert and got really high and had a really good time. I guess as far as tributes go it wasn't that bad, but it's nowhere near as good as the one devised by Portland film maker James Winters who got his family – mainly his little kids – to re-enact the Beastie Boys famous 1994 video for the hit song Sabotage.
Of course, everyone has seen the video to Sabotage as it's probably one of the most famous music videos ever. I didn't know that it was directed by Spike Jonze until now though, although it makes complete sense that it would be as it's pretty visionary for a 1994 music video. Anyway, Winters had to take some liberties with his re-enactment to ensure the safety of his kids, so you know the guns they are using are fake, instead of high rise buildings they're in the playground, instead of a briefcase of drugs it's a briefcase of poprocks, instead of a swimming pool they're in a kiddie's paddling pool and for some reason the megaphones are made out of paper and sticky tape rather than being actual megaphones. I couldn't really work out why they did that except to be extra cute because I don't think that a megaphone would actually fuck up a kid that much because I mean every time they come out with adults there's always one idiot that uses it to shout down someone's ear and they always seem to be OK. I actually have no idea about that – I don't think I've ever even seen a megaphone in real life – I just assume that that is what would happen in these situations.
Anyway, here's the video. It's really good. R.I.P. MCA. I also stuck in the original Beastie Boys video to Sabotage underneath so you can compare and contrast it. You can thank me later.